Sartana's Here...Trade Your Pistol for a Coffin
(1970)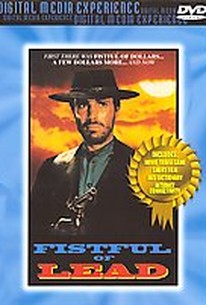 AUDIENCE SCORE
Critic Consensus: No consensus yet.
Movie Info
The action-packed story of a soldier of fortune in the Old West who's particularly partial to money, women and fresh eggs. While tracking a fugitive, he witnesses the robbery of a gold shipment.
Rating:
NR
Genre:
Directed By:
On DVD:
Runtime:
Critic Reviews for Sartana's Here...Trade Your Pistol for a Coffin
There are no critic reviews yet for Sartana's Here...Trade Your Pistol for a Coffin. Keep checking Rotten Tomatoes for updates!
Audience Reviews for Sartana's Here...Trade Your Pistol for a Coffin
Seems nobody can make up their minds if this is suppose to be an official Sartana film or not. Garko was suppose to be in it, and the style and plot are very much the usual stuff of the Sartana films. It's a fun ride neverless, even if it has some swamps here and there regarding plot and pacing. Hilton clearly lacks the screen persona of Garko, but he's not a bad choice either. This Sartana has a thing for eggs, and for a change he actually has to save some innocent civilians from bandits, something Garko never had to do as Sartana. Not a must, but it won't hurt giving it a try.
Tsubaki Sanjuro
Super Reviewer
½
This film was 90% garbage and 10% wasted good ideas. Firstly, the production was horrible. It looked like the budget was $10,000 bucks and very well should have been. Everything looked pretty cheap. The cinematography was invariably horrible and the gunfights were random and nonsensical. Now there were some redeeming factors in the wildly odd gunfights, but mostly they came off as obscurely stupid (gun in bread loaf)... George Hilton couldn't hold a candle to Garko's Sartana. While Garko came off as calm, cool, sly and invincible. Hilton was just a douche-bag, cocky and pedestrian. His wit was MIA. Now this is mostly the writers fault, but definitely some of the blame is to be awarded to Hilton. The best part of the film was the fabulously gay Sabbath (played by Charles Southwood). His eccentric outfit was complete with white parasol. Good thing he kicks ass with a rifle. He was very funny and the best part of the whole film. Overall, it's only for very very hardcore spaghetti western fans. Stay away, you'll never get that hour or so of your life back.
jonathan brazeau
Spaghetti Westerns are rapidly growing on me, because they blend gritty double-dealing with flat-out absurdity. Case in point: Sartana. There are 4 "proper" Sartana films and numerous sequels and spinoffs. This is a sequel, where the immaculately dressed gunslinger and bounty hunter (George Hilton) tracks down a gang of bandits stealing gold shipments from a crooked mining company. Or they would be, if the mining company hadn't hidden away the gold and only shipped junk. Betrayal follows betrayal as various villains fight it out for the gold, and Sartana rides into town looking to make some money, but soon after, a rival gunslinger, the English dandy Sabbath (Charles Southwood as a character with no connection to the famous gunslinger Sabata), arrives also looking to make his fortune. The plot is clearly ludicrous, but the film is actually a lot of fun. The bulk of the entertainment comes from Sartana outwitting everyone who opposes him through creative ways. Hilton does a nice job and the rest of the cast are also up to the task. The music is also quite good for the film. Not a particularly polished film, nor does it really bring a lot to the Western genre, the movie still took me by surprise with how enjoyable it was. Sartana's a great character and the movie has a cocky swagger that adds to its charm.
Kestutis Kalvaitis
Sartana's Here...Trade Your Pistol for a Coffin Quotes
There are no approved quotes yet for this movie.
Discussion Forum
Discuss Sartana's Here...Trade Your Pistol for a Coffin on our Movie forum!