Satan Hates You
(2011)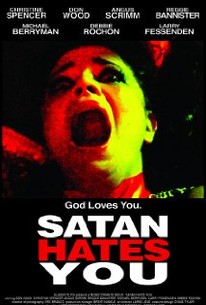 Movie Info
Inspired by films from the golden age of religious cinema such as A Thief in the Night (1972), If Footmen Tire You, What Will Horses Do? (1971) and Stalked (1969), Satan Hates You is a graphic horror film that tells the stories of two individuals and their personal struggles with Lucifer himself. We follow Marc (Don Wood) a homicidal maniac driven by demons buried deep within his soul, and Wendy (Christine Spencer) Marc's polar opposite who lives life fast and hard without a second's thought to the consequences. Their separate paths will eventually cross, but will it be on the road to salvation or the highway to hell? -- (C) Official Site
News & Interviews for Satan Hates You
Critic Reviews for Satan Hates You
Audience Reviews for Satan Hates You
½
Here's the thing about "Satan Hates You". It's not a bad movie. It's definitely not a good one, but it ain't a bad one either. The film does have a lot going for it, there are some sequences that are really smart, the story itself is pretty good too. The problems the production has are multitude though. First off, the actors aren't good enough to carry the audience's attention the entire 90 minutes. They do a fine job and if this was a short, it would've been fine. But the script isn't stellar and the actors aren't great, so there are a number of scenes the film could easily do without that would tighten it up a ton and make it much more enjoyable. Secondly, we've reached a point culturally, where people are now making "spoof" type movies based on other "spoof" type movies, rather than the original source material that these prior "spoof" type movies used. It's like watching Todd Haynes' "Dottie Gets Spanked" or John Waters' "Crybaby" and then using those as springboards for making a 50's esque satire. It's why you don't clone a clone, the copy of a copy isn't as good as the original. "Satan Hates You" is not made by people who experienced the source material first hand, it's by people who have watched other people make fun of these old christian what have yous, and this is their reaction to other peoples reaction, does that make sense? I realize this might sound convoluted. The biggest drag on the film though has to be the two devil characters, which are both the two main representatives of this copy of a copy syndrome as there is literally nothing about them that makes them memorable or likable or worth paying attention to at all. You could remove them from the entire film and it wouldn't make a difference, except that the film would be more enjoyable. They're not funny, they don't really move the story forward, I mean, technically they do, but it would almost be better if they didn't, like, instead of showing the devils pushing the pill towards the girl, if it just moved invisibly, it would be, I don't know, more interesting, less obnoxious. One incredible win is the abortion scene, as well as the lesbian goth fortune teller, she's great. But so many scenes could be cut. There is a good movie buried in here, but there's a lot of bad stuff around it dragging it down. This would've been a fantastic 15 or 20 minute film. That's one of the biggest problems in film across the board, not knowing what to cut and what to leave in. Oh and the dude from "Hills Have Eyes" being in it was awesome.
Louis Falcetti
Satan Hates You Quotes
There are no approved quotes yet for this movie.
Discussion Forum
Discuss Satan Hates You on our Movie forum!