Satanic Panic
(2009)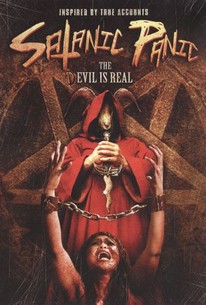 AUDIENCE SCORE
Critic Consensus: No consensus yet.
Movie Info
A group of unsuspecting campers fall prey to a murderous satanic cult in this low-budget shocker inspired by the wave of diabolical paranoia that swept though the country starting in the late 1970s. The year was 1980: twin siblings Toby and Cindy Richards were just ten years old when Satanists kidnapped them for sacrifice. Cindy escaped, but Toby wasn't so lucky. Flash forward to 2005, when a small group of friends load up their canoes for a relaxing trip down the river. After an unsettling run in with some peculiar locals, the friends realize that something sinister is afoot in the small town of Thornwood. The Satanists are still here, and they're looking for more sacrifices to appease their master.
Rating:
NR
Genre:
Directed By:
Written By:
On DVD:
Runtime:
Critic Reviews for Satanic Panic
There are no critic reviews yet for Satanic Panic. Keep checking Rotten Tomatoes for updates!
Audience Reviews for Satanic Panic
½
2009 US Director: Marc Selz Score: 3 The synopsis on this film said it was about a young woman coping with the trauma of her and her twin brother being abducted as a child by a "satanic cult" and she escaped but her brother didn't. Ok, got it. Unfortunately we have to sit through the first ten minutes or slightly more of bad acting in a section that was supposed to look like documentary footage. None of it actually advances, or even begins, the actual plot of the film. So, after that the plot begins to unfold, or so I thought. It unfolds slowly, and is full of mediocre to downright sub-par acting as well. The main group in the story actually doesn't have anything to do with the little girl. They just happen to be camping in the same area. So basically that means that the first twenty or so minutes of this 82 minute film is non-plot advancing stuff. The film maker tries to make it better by bringing the little girl back into it later as a grown woman. By then, we have a jumbled mess of a plot full of poor acting and it gets even worse when the woman's slain little brother (Toby) suddenly appears as some kind of vengeful monster. Despite the attack of the Toby monster and his sister swearing revenge we end up with our entire main group of campers dead and an ending that clearly indicates the satanic cult is still fully functioning. That leaves me (and I assume anyone with the ability to think logically) wondering why the brother/monster and sister were brought back into it all since they didn't actually make a difference. The special effects are laughable. I saw better "stage blood" just last Saturday (Halloween) on several costumes than was used in this production. The soundtrack was, thankfully, not so bad that it distracted from the movie but it was pretty forgettable and ineffectual as far as supporting the on screen "action". So we have a mostly badly acted production with a jumbled plot that really throws logic out the window by the end and just introduces things for the hell of it. It wasn't really worth the time it took to watch it. Notes: GV-HL-N-SA Suggested Age: 16+
Todd S
Satanic Panic Quotes
There are no approved quotes yet for this movie.