Satan's Playground
(2006)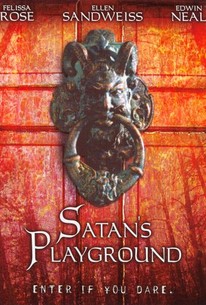 Satan's Playground Photos
Movie Info
Writer/director Dante Tomaselli's horror picture Satan's Playground (2005) -- the filmmaker's third feature outing -- subverts horror expectations and genre clichés by deliberately suspending point-by-point logical threads, carefully steering around gore, and enlisting an acting ensemble not of teenagers, but of actors who are predominantly well into middle age. The picture involves the Bruno family -- siblings Donna (Felissa Rose) and Paula (Ellen Sandweiss), Donna's hubby, Frank (Salvatore Paul Piro), and autistic son, Sean (Danny Lopes), and newly single Paula's baby, Anthony -- who are en route to a vacation in the New Jersey Pine Barrens when their car gets stuck in the middle of nowhere. In an effort to solicit help, they inadvertently fall prey to a clan of white-trash, backwoods psychotics, while several are picked off, one at a time, by a strange, unknown predator from out of the night sky. Cast with veterans of the Texas Chainsaw Massacre and Evil Dead movies, Tomaselli pays loving tribute to slasher movies of cinema past.
Rating:
NR
Genre:
Directed By:
Written By:
In Theaters:
On DVD:
Runtime:
Studio:
Critic Reviews for Satan's Playground
Audience Reviews for Satan's Playground
Tomaselli's goals may have been admirable for this film, but whatever the intent, it fell FAR short in execution. I can only surmise that Satan's Playground is a demonic tool that causes viewers to take their own lives rather then be subjected to any more...
John Wagner
Opening scene: a woman who looks like a cross between a crack whore and a clown stares up into the trees until she gets attacked. This scene is frickin' hilarious if you're in the right mood.
Alex Carawan
Satan's Playground (Dante Tomaselli, 2006) I have long been a defender of Dante Tomaselli's work, having seen, and liked, both 1999's Desecration and 2002's Horror. I grant you, Tomaselli's movies are an acquired taste, even if you're used to no-budget horror with amateurish special effects and bad acting, but let's face it: watching a Dante Tomaselli movie on a loop for an entire week is better than watching one minute of pretty much any movie that has ever been produced by The Asylum. You know this is true. And so we come to Tomaselli's third feature, Satan's Playground. It's got some of the Tomaselli hallmarks (most notably, the fact that very little of this makes sense, as if Tomaselli woke up from a nightmare, transcribed it, and then never revised), but this movie had a bigger budget, got some name stars, and has a more straightforward plot than usual. It may have been an attempt to take the Tomaselli name to a wider audience. If so, I think it failed pretty miserably, but if you're an established Tomaselli fan, this is good stuff. We start off with a family driving through the New Jersey woods. Pieces of a family, anyway. There's grandpa (Sleepers' Salvatore Paul Piro), his two daughters Donna (Sleepaway Camp's Felissa Rose) and Paula (The Evil Dead's Ellen Sandweiss), and Paula's infant son Anthony (Marco Rose). I'm not entirely sure where they're going; if it's mentioned, I don't remember. In any case, they break down in the woods, there's a house nearby, you know the drill. That scenario never ends well. In this case, the house is inhabited by a psychotic palm reader with a taste for human flesh and her crazy kids, who take the family in one by one as they go looking for help. Despite having some actors anyone in the horror community is going to be familiar with (Raine Brown also turns up in a small role), if you ever wondered why Felissa Rose hasn't done much acting outside the Sleepaway Camp movies or Ellen Sandweiss didn't make a movie between 1982 and 2006, watching this will tell you. Still, bad acting is to be expected from a Tomaselli joint, as are the inevitable plot holes and bits that simply don't make sense. And if you take this with the nightmare angle I described earlier, you may be able to get your head around it. There are precious few of us who can, but you may be one. ***
Robert Beveridge
Satan's Playground Quotes
There are no approved quotes yet for this movie.
Discussion Forum
Discuss Satan's Playground on our Movie forum!