Satansbraten (Satan's Brew)
(1977)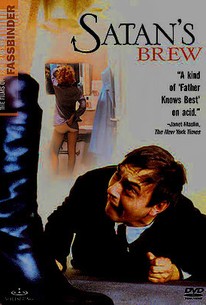 Movie Info
This fast-paced black comedy by wunderkind director Rainer Werner Fassbinder follows the frantic efforts of a starving and confused writer, Walter Kranz (Kurt Raab) to beg, borrow or steal enough money to survive on, and at the same time make some sense of his confusing life. Unable to write enough to keep his publisher's royalty advances coming, he seeks out a woman he imagines is a prostitute and interviews her for material. He is also inspired to utter some poetry, which his brassy, outspoken wife identifies as coming from the famous homosexuality-advocating mystical German poet, Stefan George. This inspires Walter to take a closer look at the "gay scene," and he quickly becomes a sort of celebrity there. ~ Clarke Fountain, Rovi
Critic Reviews for Satansbraten (Satan's Brew)
Audience Reviews for Satansbraten (Satan's Brew)
Fassbinder attempts a screwball comedy and, well...let's just pretend it never happened.
Marcus Woolcott
Super Reviewer
This might bother some of Fassbinder's more 'serious' fans, but this is probably my favorite of all his films (that I've seen, anyway). Kurt Raab, usually Fassbinder's production designer, takes the lead role, giving a very Peter Lorre-ish performance as down-and-out leftist poet Walter Krantz. Unable get an advance from his publisher due to a lack of productivity, and under pressure from his unpleasant wife (Helen Vita), he struggles to make money, interviewing a prostitute for an upcoming book project which never materializes, blackmailing and murdering a variety of women, and even taking in a sycophantic female admirer (Margit Carstensen, almost unrecognizable) to get enough money to stay afloat. His murder of a masochistic mistress is under investigation by a slightly unhinged cop (Ulli Lommel, later to become a director himself), but Walter is more concerned with making money, and then later, his new obsession with the idea that he is in fact the reincarnation of homosexual German poet Stefan George. Bookended by a quote from Antonin Artaud, the film wears its Theatre of Cruelty influences on its tattered sleeve, with frenetic performances, outrageous dialogue, and bizarre, often offensive situations. I don't want to spoil too much, but if you like weird stuff, this is most definitely for you.
Steve Joseph
Amusing in parts, but the absolute mania of the film got tired fast.
Robert Fearon
Super Reviewer
Satansbraten (Satan's Brew) Quotes
There are no approved quotes yet for this movie.
Discussion Forum
Discuss Satansbraten (Satan's Brew) on our Movie forum!