Saturday Morning Massacre (Saturday Morning Mystery)
(2013)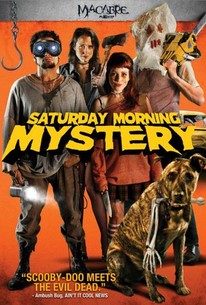 AUDIENCE SCORE
Critic Consensus: No consensus yet.
Saturday Morning Massacre (Saturday Morning Mystery) Videos
Saturday Morning Massacre (Saturday Morning Mystery) Photos
Movie Info
Four professional ghost hunters, who travel in a vintage van accompanied by their canine companion (sound familiar?), get far more than they bargained for when they investigate an abandoned schoolhouse with a mysterious past.(C) XLRATOR
Rating:
R (for bloody violence, some strong sexuality, nudity, drug use and pervasive language)
Genre:
,
Directed By:
Written By:
In Theaters:
On DVD:
Runtime:
Studio:
Critic Reviews for Saturday Morning Massacre (Saturday Morning Mystery)
All Critics (3) | Top Critics (1) | Fresh (1) | Rotten (2)
This indie feature lifts a beloved cartoon template, but can't hit the bar it sets.
Hollywood Reporter
Top Critic
Parson clearly has affection for the ridiculous artifice of the "Scooby-Doo" TV show, but none of that translates into this meandering, uninspired riff on haunted silliness.
I love a good horror film, but I love a creative horror film even more.

Audience Reviews for Saturday Morning Massacre (Saturday Morning Mystery)
½
"Saturday Morning Mystery" (formerly known as Saturday Morning Massacre- and Massacre is still the film's true form.) is a bizarre little indie flick directed by Spencer Parsons. The film stars Ashley Rae Spillers, Johnny Mars, Josephine Decker, Adam Tate and Paul Gordon. The story follows a crack pot team of paranormal investigators, much like the Scooby gang, who get hired to dispel the rumors and fears of locals around the paranormal activity at an estate. The group soon learn that there are much more sinister things hidden behind the walls of the Kyser schoolhouse. The gang choose to stay and solve the creepy behind the going-ons at the property, which proves to be in grave error. The decision to solve this mystery becomes a real massacre. "Saturday Morning Mystery", (or Massacre) as I prefer to consider the film, is truly one of those strange films that blows you away. I had expected some cheesy, retro-throttled, low-budget spectacle. At the start there is a real throwback feel to the film which clearly became inspired by the cartoon mystery gang- only with the characters and their back-story though. Beyond that the similarities become terrifyingly obsolete. This is a real fright-fest fanfare story, with a way more sinister series of events than any cartoon show could think of inspiring. It becomes a truly gripping and nail-biting grindhouse horror story. The kitschy beginning and groovy build-up in this film has a cleverly darker intent. That intent is to throw you off guard, and then drag you into the pits of hellish nightmares as your nails tear off, and blood stained cries shatter the dark chilling air! This film is one of those rides into horror land that you will be glad you took. Think -The Scooby gangs accidentally wonder into the path of Stag Night kinfolk in a rural setting. The story in this film is pretty well written and flows beautifully. There are a couple of moments that go off between dialog and scene portrayal. Actually only two that I remember seeming off was the "tab of acid" line and the "I totally have a jimmy in this bag" (or something like that.) There was no tabs taken-the drug leeched into the water cooler, and the character that said the line about the jimmy didn't have a bag on her in the scene. At least I didn't see one. Anyway those two moments - that is all-those two were the only milliseconds that slowed my totally pleasurable horror ride into this window to Hell. Pretty much every aspect of the film from cinematography to directed to soundtrack and kill scenes rocked in "Saturday Morning Mystery" You don't expect the intense vicious turn this film takes toward the last act but man it drags you in and sets you on the edge of the slaughtering blade of horror. This is truly one of the best indie horror films I have seen and a must for horror movie collectors.
rick russ
½
The set-up in loaded with Scooby-Doo trappings, but once we're fully immersed it gets more into the neighborhood of something like Texas Chainsaw Massacre, and I was still pretty much onboard for all the shenanigans. Give it a look.
Bill Bryant
½
This is a good example of a cover being better than what's inside. "Scooby-Doo Meets The Evil Dead"? More like High School Drama Class Meets Wrong Turn. That's not necessarily a bad thing though. Hell, a lot of bad horror films could benefit from a little Wrong Turn. A lot of the acting left a bit to be desired, but there were parts that were creepy as hell and even a couple potential bowel release moments. Minus a half star for lying to me on the cover. "Can you confirm this dog is eating a human hand?"
Gaspar Oot
Saturday Morning Massacre (Saturday Morning Mystery) Quotes
There are no approved quotes yet for this movie.