Savage Dawn
(1985)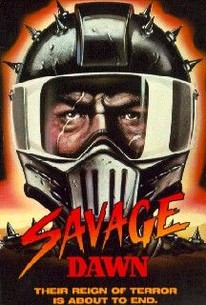 AUDIENCE SCORE
Critic Consensus: No consensus yet.
Movie Info
A motorcycle gang invades a small desert town, terrorizing everyone. Nobody's able to stop them until an ex-Vietnam combat hero (Lance Henriksen) arrives to visit a friend (George Kennedy). Although he'd hoped there would be no more violence in his life, he finds it impossible to ignore the confrontational behavior of the bikers and gives them more than they can handle when he starts striking back.
Rating:
R (adult situations/language, violence)
Genre:
,
Directed By:
Written By:
In Theaters:
On DVD:
Runtime:
Studio:
Media Home Entertainment
Critic Reviews for Savage Dawn
There are no critic reviews yet for Savage Dawn. Keep checking Rotten Tomatoes for updates!
Audience Reviews for Savage Dawn
½
It was a good basic story, "tortured hero saves town from bikers." They simply didn't have the money to make it into more than a B movie.
James Kiester
Super Reviewer
A very cool film from 1985, a great cast and action. Lance Henriksen stars as Ben Stryker, a former soldier on his way to Aqua Dulce, Texas to see Tick Rand (George Kennedy), a friend of his. A motorcycle gang known as the "Savages" cause trouble for the town and Stryker and Tick help fight back. The other cast members that are awesome in this film are William Forsythe, Claudia Udy, Mickey Jones, Michael Sharrett, and an appearance by the late Sam Kinison.
Jeffrey McCurdy
Okay, now tell me this isn't a little bit confusing. There's a 1983 film called [i]Stryker[/i], a post-apocalyptic-biker-takes-revenge flick directed by Filipino auteur Cirio Santiago. This was released to video as [i]Savage Dawn[/i] in 1985. The same year, there came a biker-takes-revenge flick called [i]Savage Dawn[/i], in which the lead character's name is Stryker. To make matters worse, the 1985 [i]Savage Dawn[/i] may not be technically a post-apocalypse film, but it sure as hell feels like one. The entire thing takes place in a dsert town, there's lots of ridiculous outfits on the bikers, there's plenty of neon, the final twenty minutes are basked in a weird, hyper-colored glow, and it's got exactly the sort of cast you'd expect to find in a bad sci-fi film. You could insert one random line about "things being different before the plague" or something and you'd have a perfectly fine post-apocalyptic-biker-takes-revenge flick, like, say, [i]Savage Dawn[/i]. The other one. The one called [i]Stryker[/i]. In the non-Stryker [i]Savage Dawn[/i], Lance Henriksen stars as Stryker, a grumbly, easily-irritated guy on the run on his hog from whatever who finds himself visiting his old pal Tick (George Kennedy) and his two kids. The problem is that Tick's clan live near a tiny city in the desert that's beginning to get overrun by a gang of psychotic bikers led by Pigiron, played by William Forsythe. Now, you'd think Stryker would be some kind of lone, heroic, Clint Eastwood type. Unfortunately, he doesn't do much of anything. He doesn't even bother helping out when the biker gang rapes a young woman, and the only reason he even helps out the town (the law enforcement, which seems to include Leo Gordon and a midget sidekick, is no help) is because Tick and his kin start things off first. In fact, the Tick Squad does a fine job, blowing up a tank and setting fires in plenty of places. Stryker does finish the job, but as a hero, his battles are too little too late, especially after watching a wheelchair-bound George Kennedy and two kids kick a lot more ass. The biker gang itself is fun to watch and includes heavy regular and ex-New Christy Minstrel (!) Mickey Jones, and Forsythe seems to be having a blast. His biker mama, however, is played by Karen Black, and is introduced with the following sequence: Midget: Hey, what would you say to a little fuck? Black: I'd say, "Hello, little fuck." For some reason, I thought this was brilliant. Black seems to be having a great time, engaging in a catfight with Tick's daughter (B-movie babe Claudia Udy), vamping around as a waitress and gleefully shouting while straddling a tank's turret. (Wouldn't this be, er, a little hot?) Richard Lynch also pops up as the town's priest (why this town, which seems to consist of no more than a half-dozen people, needs a priest I'm not sure) who gets seduced by a biker vixen and ends up on the wrong side of the tank, and he's a hell of a lot more sympathetic than the average Richard Lynch character. In fact, you can see that Lynch is clearly going out of his way not to seem evil, because the lecherous priest would be such an easy thing for him to do. The plot of [i]Savage Dawn[/i] is average drive-in stuff, and the hero is suprisingly useless for much of the film, but the thing moves along well enough and provides a decent showcase for a few fine character actors, so I was reasonably entertained. If I squinted a little bit, and silently prenteded that Richard Lynch's scars were the result of some hideous mutatuon, I could even pretend that it took place after some horrible apocalypse. [size=1](There's a character in here named Spyder, who's bald, speaks in pointlessly verbose sentences and wears sunglasses, a suitjacket and no shirt underneath. A direct inspiration for [u]Transmetropolitan[/u]'s Spider Jerusalem? Probably not, but it's interesting to note.)[/size]
Paul Freitag
Savage Dawn Quotes
There are no approved quotes yet for this movie.