Savage Girl
(1932)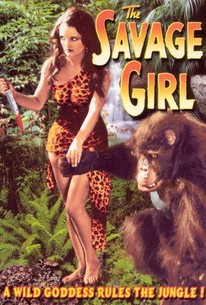 AUDIENCE SCORE
Critic Consensus: No consensus yet.
Movie Info
In this film, a great white hunter embarks upon an African safari, but instead of bagging an animal, he ends up entangled with a white "goddess" who has been raised by natives. Action and adventure ensues when both the heroic hunter and his devious companion fall in love with her.
Rating:
NR
Genre:
,
Directed By:
Written By:
In Theaters:
On DVD:
Runtime:
Critic Reviews for Savage Girl
There are no critic reviews yet for Savage Girl. Keep checking Rotten Tomatoes for updates!
Audience Reviews for Savage Girl
A Early Jungle film, where a man is hired by a wealthy man who does a little drinking (Most of the movie), this man wants his own zoo in Westchester Co. NY, so off to Africa they go to trap animals for the zoo, when they come across the white goddess (the beautiful Rochelle Hudson). Of course there is a bad guy who tries to take the white goddess into a hut to do more then play house with her. But our hero saves her, never know if he traps the animals, but in the end like all White Goddess?s she traps her man, even though she only know about 4 words of English. Funny parts throughout. First White Goddess I've seen in movies with Dark Hair, most are blonds, my guess is she was a beautiful dark red head. Such a early film hard to give more then 2 stars, comes from the Son's of Kong 10 Movie Collection.
Bruce Bruce
Super Reviewer
½
The quote of the day is from Darrell Garrett. Good stuff... the alternatite title is "Africa... Ah-free-kah!", which is from "The Savage Girl". Now for reviews... The Savage Girl: A goofy jungle film from the 1930s. The main character is constantly drunk and the girl is apparenty "savage" because she lives in the jungle and doesn't speak English. I fell asleep through the middle and the DVD stopped working near the end. I really wasn't dissappointed by that. Das Boot: Great film. Slept through part of it, but a great rendition of how the Germans were in WWII. (A good porno could be based on this... "Das Booty".) The Boxer: An excellent film on the tensions in Northern Ireland with a boxing element. Just good filmmaking. The Corporation: A look at how corporations operate. It exposes some of the many illegal, unethical, and disgusting acts of ruthless corporations that care only about profits. A good film for liberal-leaning people and conservatives who want to know why other people are liberal-leaning. The Outlaw Josey Wales: Arguably Clint Eastwood's best movie. In my opinion, a close third behind Kelly's Heroes and The Good, the Bad, and the Ugly. Great dialouge, good plot, and good action. A must see for Eastwod fans. Otherwise, not much is happening. Working on Service for school, and on Saturday I will go out driving again. I work on Friday and I REALLY want to do a podcast this weekend. REALLY. Those who are interested -- post a comment. Anyway, I guess I better get going, my bus leaves in a few minutes... Sorry, for the lack of updates -- I'm working on SuperSite II now. See ya! -Joe
Joe Kay
Discussion Forum
Discuss Savage Girl on our Movie forum!