Savage Harvest
(1994)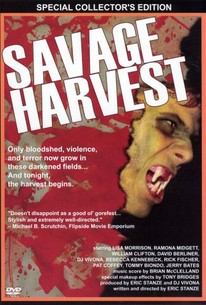 AUDIENCE SCORE
Critic Consensus: No consensus yet.
Movie Info
In the small town of Dittmer, MO, a group of friends goes to the lakeside home owned by Gary, the uncle of one of them, to help clean out an old shed, but what they don't know is that the property sits on an old Indian burial ground. Gary tells the kids the story of the agony and death of the Trail of Tears, and a Cherokee elder (Wes Robertson) who used black magic in an attempt to help his tribe. The elder was consumed by the evil spirits and turned all the crops to stone. As punishment, he was thrown into a spring-fed hole and covered with rocks, which a recent flood has washed up. These rocks contain demonic spirits, and the legend goes that when a descendant of the elder comes to the land, the demons will arise and possess the living. None of the kids are Cherokee, but one of them had an accident requiring a blood transfusion some time before. Pretty soon, the kids start becoming possessed, grow giant sharp fangs, and the blood starts flowing as the evil dead rise to claim their victims. There's a screwdriver in the head, a demon stabs a kid in the neck with his venomous spiked tongue, throats are ripped out with clawed hands, a zombie is crushed with an old refrigerator, a head is blasted apart with a shotgun at close range, a chainsaw dismemberment, a shovel in the chest, a smashed skull, an electrocution, and a girl is completely torn in half and gorily cannibalized. Eventually, the elder returns through a spiritual barrier as a horned demon named Retlawkoob (Jerry Bates), and that's when the surviving kids really have their hands full.
Rating:
R (adult situations/language, nudity, violence)
Genre:
Directed By:
Written By:
On DVD:
Runtime:
Studio:
Sub Rosa Studios
Audience Reviews for Savage Harvest
[font=Times New Roman][size=4][color=#000000]This is another movie from Eric Stanze and his Sub Rosa production company. I have to hand it to the guy; he keeps throwing them out there, that's for sure. There is no nudity in this movie and I only mention it because that is REALLY rare for a Stanze movie. The plot is pretty simple, but for a 70 minute movie that's all you should expect from a plot. The story puts a group of young people going to an out of the way place (in this film it's a closed summer camp) where they one by one succumb to demon possession. Sound familiar? A little too [i]Evil Dead[/i] for you?[/color][/size][/font] [font='Times New Roman'][color=#000000][size=4] The make up and gore effects are pretty average and one of the demon possessed kids has a habit of eating corpses giving the film a slight zombie film vibe too. The acting is ridiculous and not even bad enough to be funny, it's just bad. The soundtrack is nothing more than some noise in the background. If I were you, I wouldn't waist a dime on this short, boring, backyard production.[/size][/color][/font]
Todd S
Savage Harvest Quotes
There are no approved quotes yet for this movie.