Savage Island
(1985)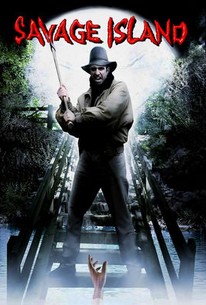 AUDIENCE SCORE
Critic Consensus: No consensus yet.
Movie Info
A relaxing weekend getaway turns into a fight for their lives when a young couple falls prey to a vengeful clan of backwoods squatters in cinematographer-turned-director Jeffery Scott Lando's directorial debut. As they arrive on Savage Island with their newborn son for a weekend visit with the family, young couple Steven and Julia is greeted at the pier by Julia's young brother Keith. Callously speeding back to the cabin with the headlights turned off in a bid to get a rise out of his sister, Keith runs over what he assumes to be a small animal. When the Savage clan arrives at their doorstep claiming that Keith ran over their young boy and demand Steven and Julia's newborn son as compensation for their loss, the couple's refusal to hand over their son sparks a brutal struggle for survival pitting the determined city-dwellers against their resourceful -- and bloodthirsty -- backwoods counterparts. ~ Jason Buchanan, Rovi
Rating:
R (for violence, language, some drug use and sexuality)
Genre:
,
Directed By:
Written By:
In Theaters:
On DVD:
Runtime:
Audience Reviews for Savage Island
So low budget that you barely can see the picture. But the plot is decent enough to have deserved a bigger budget.
Lanky Man Pat
This is not the 1985 Savage Island as the above information might suggest--it has no connection to that film. This is a super-low-budget, redneck horror film. Funny at times, Savage Island is mostly just boring--it's only notable features are that it has the Colonel from Twin Peaks in it and that it features one the dumbest characters to ever blatantly disrespect a clan of crazed rednecks in the stupidest way possible. Otherwise, it is just plain old garbage.
Al Miller
Full disclosure: I only saw this movie because Twin Peaks' Don S. Davis appears in it. I'd never seen him in any role other than Major Briggs on that show and I was curious. Having now seen him in the two roles, I can say there wasn't much difference between the two. Don Davis isn't a bad actor, but if a comparison of his Major Briggs and his part in Savage Island as wealthy patriarch Keith Young is any indication, he's also one-dimensional. So much for Don S. Davis. Savage Island isn't a terribly original story. A wealthy family legally owns an island on which also dwells a clan of backwoods squatters. The wealthy family plans to turn the island into a high-end resort; the backwoods clan disputes the Youngs' ownership. The wise-ass stoner son,Peter Young, an instantly grating character, hits the youngest clan child one night and the clan wants a replacement child, Julia and Steven's infant, Alex. They first kidnap Peter and then Alex, much fighting and screaming ensues, the Young men botch a rescue attempt, and Julia winds up married off to one of the clan's sons. Some blood, a few stabbing with pointy sticks, etc. I won't give away the ending, which is pretty good, but it's wisely ambiguous. Whether it's a happy ending or not depends on your POV. The writing definitely falters here; characters repeatedly make unrealistically dumb choices to move the plot along. The cinematography itself is largely digital graininess; it works sometimes and is simply annoying at others. The whole flick was shot on a budget of nothing with loaned equipment and desktop editing, in consideration of which the crew did a remarkably good job given the constraints. Despite being formulaic and a bit off-kilter at times, Savage Island isn't bad. It's not memorable, mind you; you've seen all of this before. Still, it's pulled off well enough that one has to wonder what the director will do with a budget (he has made a few TV movies since; Savage Island was his first feature-length film). Savage Island is essentially Deliverance meets The Hills Have Eyes. If you liked the latter of the two, you'll probably find some enjoyable moments in this no-budget flick. You'll forget about it a week later, but they're not bad on screen. There's enough tension and enough violence here to keep genre fans happy for an hour and a half.
Brian Seitzman
Savage Island Quotes
There are no approved quotes yet for this movie.