Saving God
(2008)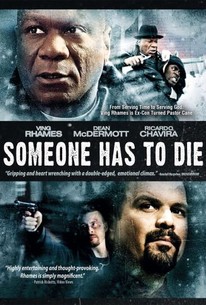 AUDIENCE SCORE
Critic Consensus: No consensus yet.
Movie Info
The producers of Left Behind: The Movie craft this tale of a preacher attempting to make amends for his violent past by reaching out to a young drug dealer with no future. Armstrong Cane was the son of a respected preacher, but he took a different path in life and winding up serving fifteen years for manslaughter. Now that Cane is back on the streets, he's determined take over his father's old church and lead the congregation to salvation. But that's going to be no simple task, with the amount of drugs and gangs out on the streets anyone who was able has long since abandoned the neighborhood to fall in with a slick new preacher (Ricardo Chivara). Now, as a dangerous gang leader (Dean McDermott) does his best to drive Cane away, the man who once turned his back on God attempts to prevent a young drug dealer from throwing his life away and falling into a perilous cycle of self-destruction.
Critic Reviews for Saving God
There are no critic reviews yet for Saving God. Keep checking Rotten Tomatoes for updates!
Audience Reviews for Saving God
½
I actually thought that I would be turning this off after a few minutes into it. I didn't. Amazingly, it's rather well done. Decent story. Decent acting. Was not real crazy about the ending, but all in all I enjoyed this.
Cynthia S.
Super Reviewer
possibly the worst script ever written and a plotline weaker than most of the cast's performance, this film sucks. the only reason it got made is cos michael jackson wrote it. the only redeeming feature is ving rhames and not even his performance could save this awful film. if you're gonna make a film which is supposed to make a statement, at least make a good movie. seriously awful, the purest stream of drivel i have ever come across. Defining Scene: Oh but there are so many to choose from! if i had to choose one scene from this film, it would have to be the piece of comedic genius when blaze confronts armstrong in the church. oh was that not meant to be funny? my mistake.
Thomas Bowler
Super Reviewer
Saving God Quotes
There are no approved quotes yet for this movie.