Savior
(1998)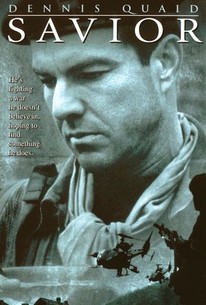 Movie Info
After producer Oliver Stone saw Serbian director Peter Antonijevic's political drama The Little One (1992), he sent him Robert Orr's screenplay, which Orr based on the true story of an American mercenary in Bosnia. Orr had been a photographer's assistant during the war. Thus, Antonijevic directed the first 100% American-funded film about the Yugoslav conflict, beginning with a Paris prologue: Former U.S. military official Joshua (Dennis Quaid) entered the Foreign Legion after his wife (Nastassja Kinski) was killed in Paris by Muslim fundamentalists. Six years later, in Bosnia during 1993, Joshua and his pal Peter (Stellan Skarsgard), fight together on the Serbian side. After Peter dies from a grenade tossed by a young girl, Joshua shoots another youth on the side of the enemy. In a prisoner exchange, psycho Serb Goran (Sergej Trifunovic), a Muslim-hater, and Joshua wind up with pregnant Vera (Natasa Ninkovic), victim of a Muslim rape. When Goran threatens to shoot her baby, Joshua kills Goran. After Vera rejects the child, her family turns against her, and Joshua drives mother and child to a refugee center. Eventually, Joshua attempts to get Vera and her baby out of the country, but they encounter death-dealing Croatian marauders. Filmed in Montenegro, Savior was shown at the 1998 Cannes Film Festival and the 1998 Sochi Film Festival.
Rating:
R (adult situations/language, violence)
Genre:
, ,
Directed By:
Written By:
In Theaters:
On DVD:
Runtime:
Studio:
Sony Pictures Home Entertainment
Critic Reviews for Savior
All Critics (9) | Top Critics (3) | Fresh (5) | Rotten (4) | DVD (1)
Filme injustamente ignorado, é brutal em sua mensagem humanitária e traz Quaid na melhor atuação de sua carreira.

A very violent drama that takes a visceral stand against vengeance and ethnic cleansing.

Spirituality and Practice
Quaid's stripped-down, emotionally raw performance is a far cry from his last acting job in The Parent Trap.
Film Journal International
Audience Reviews for Savior
½
I expected more from an Oliver Stone directed war story. Much more. This is ridiculously bad. The story is soul-less, and none of the characters are fleshed out enough to care about. The acting, and dialogue laughable.
Cynthia S.
Super Reviewer
Savior is a touching and dramatic story with a strong anti-war message that gives a decent depiction of the Serbian conflict. However, It is far from perfect: the picture and the special effects are mediocre, the film skips a couple of large chunks of time with barely any explanation, and the acting is competent at best. My biggest problem was Dennis Quaid's character being utterly devoid of any emotion throughout the majority of the film, even when he is with his family before they are killed! It's like following the adventures of a brick, who loses his brick family, but saves and risks his life for the care of a brick baby. All grievances aside, the film is well written and portrays both sides of the conflicts without bias (both sides being equally as evil as the other). As far as entertainment value, I'd give it a 2/5; it's not the type of movie you should rent with your buddies on a Friday night, but if you are looking for a decent commentary on the Serb-Croat conflict and don't care about great acting and special effects, then go for it.
Niklas Krauser
Savior is a film that forces you to confront the harsh realities of the world. It doesn't play scenes for excitement or entertainment, nor does it offer an easy escape for the audience. Dennis Quaid goes through hell in this film. He loses everything he loves, and then turns into a monster. The film is about his redemption. It could be argued as to whether he is the savior, or if that label goes to the baby he is protecting. Slowly, Quaid regains his humanity, but it isn't some schmaltzy love-fest. It shows Quaid's frustration and anger as part of what makes him human. The film is very grim and hard to watch. This is mainly due to the relaxed style Predrag Antonijevic adopts. Scenes you can imagine containing slow-motion, quick cuts and powerful music, are simply shot and edited as they would happen. It's shocking to see such huge moments played out with such subtlety, but it is also the film's major strength. If you don't mind powerful yet difficult cinema, check out Savior.
Luke Baldock
Super Reviewer
Savior Quotes
There are no approved quotes yet for this movie.
Discussion Forum
Discuss Savior on our Movie forum!