Sayonara Jupiter
(1984)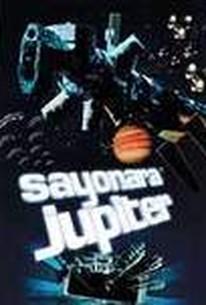 AUDIENCE SCORE
Critic Consensus: No consensus yet.
Movie Info
Director Koji Hashimoto calls the shots for this ambitious Japanese sci-fi epic concerning the colonization of Earth's neighboring planets, and the discovery of a menacing black hole that threatens to spell the end for all of mankind. In the 22nd Century the United Earth Federation has authorized the colonization of other planets. As a UEF science team attempts to extract water from the polar ice caps of Mars, the discovery of ancient carvings that depict the crash of an alien spaceship on the planet Jupiter many millennia ago forces authorities to postpone execution of the Jupiter Solarization Project - an ambitious plan to provide Earth with additional solar energy and enable colonization of other nearby worlds by turning the gas planet into a second sun. When Dr. Eiji Honda (Tomakazu Miura) is ordered to ensure that Jupiter has no trace of alien life before Jupiter Solarization Project can continue, he prepares to depart from the Minerva Station that orbits the massive gaseous planet in order to carry out his daring mission. Trouble soon arises, however, when scientists discover that a massive black hole is fast-approaching the solar system. With little time to lose before planet Earth is completely destroyed, Dr. Honda is ordered to abandon the Earth Solarization project and save the human race by sending Jupiter directly into the path of the vast, all-consuming void. ~ Jason Buchanan, Rovi
Rating:
NR
Genre:
,
Directed By:
Written By:
In Theaters:
On DVD:
Runtime:
Critic Reviews for Sayonara Jupiter
There are no critic reviews yet for Sayonara Jupiter. Keep checking Rotten Tomatoes for updates!
Audience Reviews for Sayonara Jupiter
This was truly horrible movie. I mean baaaaaaaaaaaaaaaaaaaad. Not even the spaceship model work could save this film. Then again if you just cut out the models add back ground music and jettison the rest of the film, it might make nice music video. The "plots" meander all over the universe and the acting is unbelievably awful. 2 funny spots in the film, the space pilot eating "space McDonalds" hamburgers, yep big product placement and everything is labelled "space" this & that. And the 2nd unintentionally funny moment when the hero unmasks a terrorist (whose his old girlfriend,) and takes her away for interogation from the other bad guys it's not mor ethan 5 minutes later and in true Captain Kirk fashion they're doing zero G mambo. There's a ton of other stuff that's mildly amusing but do yourself a favor and avoid this film like a black hole.
Bobby Diablo
This movie is just fantastic!! The special effects are superb and the acting is top notch. You really need to see this for yourself to believe it. There is one scene with two main characters having sex as they fly across the solar system!!!! How rad is that? But it gets better there are rebel hibbies that follow a singer/guitarists named... drum roll... Pete!!! In conclusion do yourself a favor and check out this awsome film you will not be dissappointed!!! Best thing to come from Japan
Hugh Jankins
In order to protect the solar system, one planet sacrifices its life. Jupiter is bidding farewell. In the 22nd century, scientists uncover ancient carvings that describe the crash of an alien spacecraft on Jupiter several millenniums ago. This postpones the initial phase of a plan to transform the gas giant into a second sun to provide additional solar energy for Earth. When a black hole is discovered to approach the solar system, Dr. Eiji Honda must race to complete the mission and save Earth before time runs out. Directed by Koji Hashimoto and Sakyo Komatsu, Sayonara Jupiter features great acting performances from the following cast: 1.) Tomokazu Miura (Dr. Eiji Honda) 2.) Dangely Diane (Maria Basehart) 3.) Akihiko Hirata (Dr. Inoue Ryutarou) 4.) Masumi Okada (Dr. Mohammed Mansour) Japanese science fiction, whether live-action or anime, is something of great interest for me for their introduction of giant robots and monsters into the international market. Sayonara Jupiter, on the other hand, is a film influenced by both Star Wars and 2001, and is a local competitor to 2010, which contains a plot element of transforming a gas giant into a new star (but no monoliths). That storyline excited me as I liked future space travel and how real science could influence the action, while at the same time I felt a sex scene cut to a fantasy sequence deemed unnecessary for me. Here the special effects (SFX) look real to me when it comes to the model spaceships and the scenery of the planets; I'm surprised that Toho, the studio also behind the Godzilla series, was responsible for doing all the great model-based spacey and action stuff here! You'll enjoy the film if you like either or both sci-fi and/or Japanese films.
Eric On His Fantasy Quest Vs. The Real World
Sayonara Jupiter Quotes
There are no approved quotes yet for this movie.