A Scandal in Paris
(1946)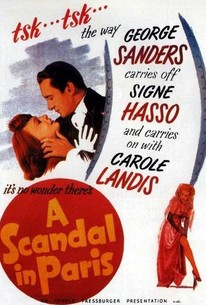 A Scandal in Paris Videos
A Scandal in Paris Photos
Movie Info
This film is a liberal adaptation of the life story of Eugene Francois Vidocq, a French prefect of police in the years prior to the Revolution. George Sanders stars as Vidocq, who spends most of the film as an aimless rogue willing to lie, cheat, and steal for his comfort.
Critic Reviews for A Scandal in Paris
Audience Reviews for A Scandal in Paris
½
great role for george sanders as a ne'er do well casanova who goes from master thief to police chief in napoleonic paris
Stella Dallas
Super Reviewer
I haven't seen very many Douglas Sirk films but this is certainly the first one I had trouble staying awake to watch. At least his other films - Imitation of Life, Written on the Wind, Tarnished Angels and even Lured and Shockproof - I found all to be engaging and entertaining dramas. A Scandal In Paris seemed like a gem with it's elaborate costumes and ornate 18th century setting. Even the script is often witty and funny. Wha happened? I think the problem may be the lead actor here - namely George Sanders - who was very good in All About Eve. Here Sanders plays a suave and sophisticated scoundrel named Eugéne François Vidocq - a real life parisian figure who was the first director of the Sûreté Nationale. This very Hollywoodized version of his early career follows his rise from a lowly thief/escaped prisoner who then wrangles his way to be the head of the Paris police force - how he does this exactly...well, that's for you to find out! It's a role that on paper seems perfectly suited for an actor with a voice and mannerisms of a George Sanders but I'm not sure he can carry a 2 hr film - namely his delivery is so droll and monotonous that I had a hard time staying awake. This is a dialogue-heavy film and I think a director with a sense of screwball comedy would have made this possibly work better - and also pick up the pace a bit too - but that's my opinion. It doesn't help that the background music is also soft and sleep inducing. Some of the character arcs here seemed to abruptly change so that by the end - I'm not sure I can completely buy them. I thought one of the highlights of the film was a sexy musical number by the beautiful actress Carole Landis early in the film. Unfortunately, her faltering career & health would lead her to commit suicide 2 years after the completion of this film. Anyway, an interesting...though, not one of Douglas Sirk's best offering, I'm afraid.
bernard anselmo
A Scandal in Paris Quotes
There are no approved quotes yet for this movie.
Discussion Forum
Discuss A Scandal in Paris on our Movie forum!