Scared to Death
(1947)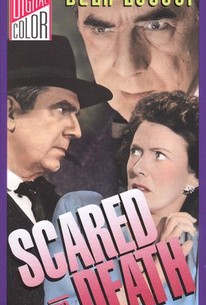 Movie Info
Completed several years before its 1947 release, Scared to Death is historically important as Bela Lugosi's only color film (outside of his brief unbilled appearance in 1931's Fifty Million Frenchmen, which today exists only in black & white). Other than that, it's a dreary story of how a beautiful but treacherous young woman (Molly Lamont) literally dies of fright. Anticipating Sunset Boulevard by at least five years, the film is narrated by the deceased "heroine", meaning that suspense and surprise are hardly considerations here. It's a toss-up as to who's funnier: the film's official comedy relief, dumb detective Nat Pendleton and dumber blonde Joyce Compton, or the "odd couple" team of the caped-and-cloaked Bela Lugosi and his dress-alike dwarf companion Angelo Rossitto. For the record, Lugosi plays a sinister hypnotist named Leonide, yet another of his myriad of "red herring" roles in the 1940s.
Critic Reviews for Scared to Death
Audience Reviews for Scared to Death
The mystery is okay, the effects aren't too great, and the characters are either enjoyable or annoying. Lugosi still plays the typical role, though nicely. It's not too hard to guess how things will turn out, but the film still manages to be a decent watch.
Wes Shad
Narrated by a dead woman (pre Sunset Blvd.) and featuring Bela Lugosi hanging out with a midget. Also happens to be Lugosi's only color film.
David Halberstadt
½
Hardly living up to its title, a film told in flashback of how a woman in the morgue got there. This was a color film with the Dracula star Lugosi in the lead, again a doctor who uses hypnosis and creepy facial expressions. The story is not a bad idea, just the excution of it in this lamentable film. Even with allowing for the year made and the technology of the time, this film is more bark than bite. CAST Bela Lugosi George Zucco Nat Pendleton Crew Director: Christy Cabanne (silent film pioneer)
monsieur rick
Scared to Death Quotes
There are no approved quotes yet for this movie.
Discussion Forum
Discuss Scared to Death on our Movie forum!