Schizoid (Murder by Mail)
(1980)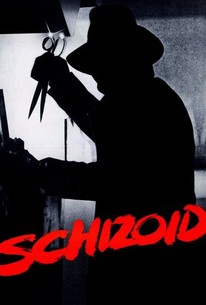 AUDIENCE SCORE
Critic Consensus: No consensus yet.
Schizoid (Murder by Mail) Photos
Movie Info
When Dr. Peter Fales's (Klaus Kinski) patients start getting annhilated by an unknown serial killer, he and his daughter Alison (Donna Wilkes) both come under suspicion. Part slasher film and part psychological thriller, Schizoid co-stars Marianna Hill as Julie, a syndicated "Dear Abby"-style columnist who also happens to be in one of Dr. Fales's therapy groups. After she receives several ominous letters she not only wonders if Dr. Fales might be behind the killings, she also starts to suspect her estranged husband.
Critic Reviews for Schizoid (Murder by Mail)
There are no critic reviews yet for Schizoid (Murder by Mail). Keep checking Rotten Tomatoes for updates!
Audience Reviews for Schizoid (Murder by Mail)
In the early 80's, many Slasher films have been released to cash in on the success of Carpenter's Halloween and Friday the 13th. Horror was changed forever, and gave rise to a further boom in the medium, exposing fans to a new genre of horror. This is a worthwhile genre film that should be seen by fans that love obscured gems such as this. The film boasts the impressive talent of Klaus Kinski. The film boasts some impressive kill sequences. This film is a necessary viewing for fans and if you enjoy Slasher films, then check this one out. The film is not ground breaking by any means, as it is standard Slasher fair, but it is an entertaining feature for what it is. The kills are the standout aspect of the film, and there is enough blood to satisfy genre fans. If you're looking for a well crafted Slasher yarn, give Schizoid a shot, it is a surprising treat that deserves to be discovered by horror enthusiasts. Although this isn't a classic by any means, it is nonetheless a good addition to the Slasher genre. The picture doesn't try to reinvent the wheel, like I stated earlier, but there is enough going on here to make this one a necessity for viewers that enjoy a film with effective kill sequences. I enjoyed the film, and I recommend that you check this out if you're a fan. This is a standout feature that overcomes its flaws and manages to make do with a good plot and effective acting from its cast. There have been better genre films of course, but Schizoid remains an obscured gem that delivers the shocks and blood that fans crave from a good horror film.
Schizoid (Murder by Mail) Quotes
There are no approved quotes yet for this movie.