School Dance
(2014)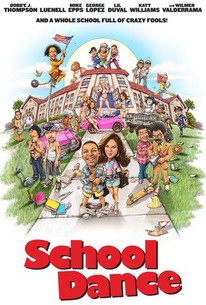 AUDIENCE SCORE
Critic Consensus: No consensus yet.
Movie Info
High schooler Jason has found his dream girl-the gorgeous Anastacia. There's just one problem: she doesn't know he exists. If he can win a spot on the school's hottest dance crew, Jason might have a shot. But before he does, he'll have to overcome his battle-ax of a mother, survive Anastacia's gangsta brother, and pass the crew's initiation-in this fresh, sexy, and outrageously funny comedy.(c) Lionsgate
Critic Reviews for School Dance
Audience Reviews for School Dance
½
School Dance is a 2014 American comedy-drama musical film directed, written, and produced by Nick Cannon (Host of America's Got Talent, Wild 'n Out, Chi-raq). The film stars Bobb'e J. Thompson (Role Models, Me and Earl and the Dying Girl), Kevin Hart (Think Like a Man, Ride Along), Mike Epps (Next Friday, The Hangover), Amber Rose, Affion Crockett ( Dance Flick, Pixels),Luenell (All About Steve, Think Like a Man), Kristina DeBarge ( Former American Idol Contestant, Televisions Growing Up Hip - Hop), Katt Williams (Norbit, First Sunday), George Lopez (Balls of Fury, Rio), and Wilmer Valderrama (That '70s Show, Larry Crowne) The film was released on July 2, 2014 in select theaters, V.O.D, and Digital HD. This is also Cannon's directorial feature film debut. This film has a remarkable cast of talent, and honestly this movie isn't that good. On the other hand, it's a guilty pleasure of so bad that it's good. I'm aware that maybe one or two (or more) brain cells are dying as I watch this. But I didn't mind, I actually watched the film in its entirety. This film is fueled by sex jokes, stereotypes revolving around black and Mexican-American lifestyles; This hip-hop-infused musical movie features a gallery of notable comedians. Nick Cannon may not be the best director or writer. However, damn he can gather the talent! (If you want to call them talent) Even though this film is loaded with stereotypes, sex jokes, and brain cell melting vulgarity. There is at least an element of sweetness to the film in our lead character Jason, played by Bobb'e J. Thompson, a low self-esteem and less than well-endowed virginal high school student who has a hopeless crush on his beautiful classmate Anastacia, played by Kristinia DeBarge, who barely knows he exists. His only hope to impress her is to join the school's hottest "clique" and help them win a hip-hop, "Lock-In" dance competition, which offers a $2,000 prize. To be honest, a majority of the acting is so bad and over the top it's actually funny. Jason's mother, played by Luenell, is so outrageous, over -bearing, gun shooting, and loud you can't help but watch how much worse she or her character can get. Also, the pot-smoking principal, played by Mike Epps is so cartoonish it's hard to take him or anyone else in the movie seriously. Cannon also infuses the proceedings with various stylistic devices, including onscreen graphics and freeze-frames, to mostly negligible effect. In addition, while Thompson and DeBarge are appealing, the veteran comic performers in the supporting cast are unable to rise above the cartoonish material. What makes films like Dope, Super bad and American Pie so memorable are at the end of the day we can relate to the characters. Another big issue I have with the film is a majority of the cast that's in high school don't look like high school students. Amber Rose is in high school? Seriously? (That's a nice high school). I know this movie is so bad that it's funny. Even though I don't think that's the intent. Nevertheless, it was so obvious, that the featuring endless scenes of leering shots of beautiful young women shaking their booties, and all the other goodies God gave them into the camera are only there to include the numerous music designed to provide the filmmaker the opportunity to contribute to the soundtrack. The slow-motion erotic car-washing scene is not even that offensive to women, because the males in this movie are just as badly and equally portrayed if not worse. (Car wash scene...I'm not complaining). So these are my final Bitchin' Buddha thoughts on the film School Dance. I know it's a bad movie, but I did have some fun even if it was for the wrong reason. At the end credits, I am indicating that the film was much more fun to make than to watch. At the end of the day, I'm glad I came across it. Even though I do not need to come across it again or any time soon. I'd love to see what Nick Cannon does next. I believe School Dance earns a... 2.5 out of 5 Thank you for reading and or viewing, and I hope you all have an amazing day as always. :)
Boogie Buddha
the good thing about this movie was 2 things 1my #homeboy @dj feli fel was in this movie and 2my brother was in this movie
javier lizarde
½
It has some fairly funny parts, but then it gets super ghetto for no apparent reason. It's got a lot of people you will recognize and I feel like that might have been part of the humor in it. But it's got parts that don't seem to fit in the movie.
Sarah Helwig
School Dance Quotes
There are no approved quotes yet for this movie.
Discussion Forum
Discuss School Dance on our Movie forum!