Schooled: The Price of College Sports
(2013)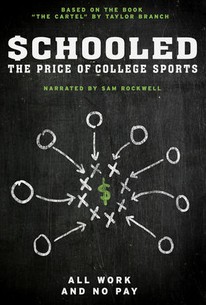 AUDIENCE SCORE
Critic Consensus: No consensus yet.
Schooled: The Price of College Sports Photos
Movie Info
The business, history and culture of college football and basketball in the U.S. are explored in this documentary, which includes interviews and archival footage. Sam Rockwell narrates.
Critic Reviews for Schooled: The Price of College Sports
All Critics (3) | Top Critics (2) | Fresh (3) | Rotten (0)
Taken together, the two docs create an image that persuasively links big money and exploitation, not that such revelations will deter the sport's devotees in either instance.
Produced by ML King Jr. biographer Taylor Branch who makes the case that college athletes are like indentured servants.
Audience Reviews for Schooled: The Price of College Sports
½
This is a well-researched, fully formed case for a change in the structure of the NCAA system that is currently in place. "Student athletes" (christened by Walter Byers) are college students who play on university teams without compensation. There's always been a classic narrative that these students are getting a free education and should be kept from being maligned with corporate sponsorship and big business. Meanwhile collegiate football alone is making billions off of the free labor of student athletes, who often can't afford to eat, who take out loans for college though they barely attend, and therefore don't do as well as other students, making said education a gambit that won't help later in life. Their likeness can be stripped away and sold without their consent, and they make no money from it. If there wasn't such a dissonance between what was actually happening to these students and the traditional narrative, I would agree that education matters as much as salary, but the film presents that that's not the real issue. This system is not only flawed, but at times corrupt, and morally ambiguous with how they treat students. What these students can actually get from this system is slim, and in the process they are physically hurt, monetarily in the red, and always dog tired. It's a complex issue that's handled well, presented knowledgeably, and breaks down our assumptions of what we know about college sports.
Spencer S.
Super Reviewer
Schooled: The Price of College Sports Quotes
There are no approved quotes yet for this movie.