Schultze Gets the Blues
(2005)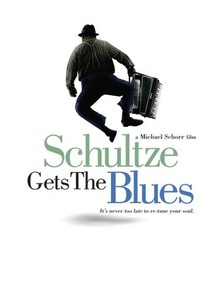 Schultze Gets the Blues Photos
Movie Info
Schultze is a simple salt mineworker, who has spent his entire life near the review Saale in the former East German state of Saxon-Anhalt. He rides his rickety bicycle across the serenade landscape to and from the mines. He drinks beer in the local pub, fishes off a pier with his workmates Jurgen and Manfred, and watches them nearly come to blows over a chess game. For Schultze, that's really all the spice he needs. When he and his buddies are suddenly laid off at the mine and forced into retirement ten years too early, not even the polka music Schultze has played on the accordion since he was a boy can put the zest back into his life--but just maybe a little zydeco can! Wandering around his modest home, trying to find contentment in a life of leisure he never asked for, Schultze is channel surfing through radio stations one day when he suddenly catches an unfamiliar rift of music--lively music that puts a spring in his step that had never been there before. But what of polka? Try as he might, this zaftig salt miner, who has been churning out the same accordion music of generations before him, can't get zydeco out of his system. In an instant, years of music tradition tumbles as easily as the Berlin Wall, and much like that momentous event that brought Germany closer to the Western World, a tie forms between Schultze and America that simply has to be explored.
Critic Reviews for Schultze Gets the Blues
Audience Reviews for Schultze Gets the Blues
Tranquility and isolation paired up with tenderness and the fascination of glimpsing into the lives of others make this my favourite arthouse movie ever. The story of a retired mineworker discovering the magic of American Blues which sends him on a personal, as well as actual journey into the heartland of America. Amazing and mezmerizing, this movie is most definetly not for everyone, as it is a far cry from Hollywood cinema, being far too subtle, slow and simple. Don't be fooled though, behind it's lighthearted touch breeds a heavy philosophy of self-discovery and love for all things beautiful and human.
Henrik Schunk
Super Reviewer
½
[font=Century Gothic]In "Schultze Gets the Blues", Schultze(Horst Krause), a man of few words, has just taken early retirement from the mine in Germany where he worked; freeing up his time to hang out with his pals all day, visit his mother in the old age home and polish his garden gnomes. He is also an accomplished accordion player, and hopes to be in the running to win a trip to attend a music festival in Texas. He performs traditional polkas but one night he has an epiphany while listening to Zydeco music on the radio...[/font] [font=Century Gothic][/font] [font=Century Gothic]"Schultze Gets the Blues" is a wonderfully photographed bittersweet deadpan comedy about retirement and growing older. The movie has great respect for its characters and small town life.[/font]
Schultze Gets the Blues Quotes
| | |
| --- | --- |
| Jurgen: | You're never too old for a revolution. |
| | |
| --- | --- |
| Schultze: | I'm surrounded by idiots! |
| | |
| --- | --- |
| Frau Lorant: | Now you have Time. |
Discussion Forum
Discuss Schultze Gets the Blues on our Movie forum!