Scooby-Doo! The Mystery Begins
(2009)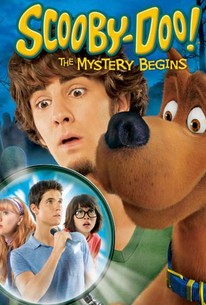 AUDIENCE SCORE
Critic Consensus: No consensus yet.
Scooby-Doo! The Mystery Begins Photos
Movie Info
Discover how the Mystery Team first came together in this prequel to the hit film series featuring everyone's favorite sleuthing canine. When the kids are unjustly suspended from Coolsville High for an elaborate supernatural prank, they pull out all the stops to catch the real culprits and clear their names.
Critic Reviews for Scooby-Doo! The Mystery Begins
All Critics (2) | Fresh (1) | Rotten (1) | DVD (2)
What a steaming pile of Scooby-Poo.

...sweet and charming, succeeding as a genuine gathering of friends.

Audience Reviews for Scooby-Doo! The Mystery Begins
It was neat learning how the gang got together. But this was just dumb. Scooby Doo looked too fake. Scooby Doo looked better in 2002.
Just A Normal Dude
"The Characters Stayed True To The Original Cartoon..." "I Always Thought They Should Have Gotten" "Saved By The Bells Dustin Diamond To Play Shaggy" **** This Story Starts Of In (Fictional) Coolsville Ohio Home Of Four High School Juniors Fred Daphne Velma Shaggy & Soon Scooby Doo. Fred Jones Is A Quarter Back: For The High School Football Team; Daphne Blake Is A Beauty Queen Drama Student; Velma Dinkley Is A Whiz-Kid Of Science & Many: Intellectual Things; & Shaggy Rogers (Always Thought They Should Have Gotten) (Saved By The Bells Dustin Diamond To Play Shaggy) Is A Happy Hippie Slow Out-Cast That Has No Friends, Often Picked On, & Likes: Unorthodox Sports. Scooby Doo Finds His Way To Being Shaggy's Dog Shortly After The Beginning Of The Film. Sent To Detention By Strict Disciplined Ex Military Vice Principal Grimes For An Altercation Aboard The School Bus Fred; Daphne; & Velma Start To Bond When They Find That They Have A Charismatic Attraction For Mystery Stories. Finding A Gang They Fit In With; Jubilant Invigoration Shaggy & Scooby Get. Coolsville School, Becomes Under, Siege By, Ghost &, The School, Gets Tore, Apart. Being The Last Kids At The School When This Happens; The Next Day All Four Get Suspended By Vice Principal Grimes; Not Believing In The Story Of Ghost Doing The Damage. Shortly After Getting Suspended; Velma Tells The Others About Hearing Strange Things That Have Happened At The Coolsville Museum; The Five Then Decide To Try & Solve A Real Life Mystery... For Those That Were Fans Of The Original Scooby Doo Cartoon; Wanting To See The Typecast I Think This Movie Will Please Them Because The Writing Of The Plot & The Characters Stayed True To The Original Cartoon: Supplying Fans That Want To See That With Just That; In Those Regards All & All A Pretty Good Scooby Doo Movie That I Would Recommend Seeing. For Fans That Want To See A Part Of The Typecast Add Up With A Little Bit Of Spice (Of Romance) That One Would Except To See In A Teenage Movie; Coupled Together With Scenes That Have A Bit Of A Warped Sense Of Humor It May Or May Not Deliver The Desired Amount; Depending On The Taste Of The Fan; Critic; Etc Fred Will Probably Be Criticized For Not Being A Blond; Velma For Being Somewhat Oriental; But Who Cares? It Is A Movie! This Story Had A Mystery Plot That Gave Clues Making It Possible To Solve The Mystery With Supernatural Characters That Had Powers That Never Got Explained (Other Than Just Being Supernatural) In My Opinion A Good Thing. Bored I, Was Not, I Liked, That Clues, To Make, The Mystery, Solvable Had, Been Put, In &, Throughout, The Film, It Kept: Me Entertained. ~ I Give This Film A B + (Bright) ****
J McDaniel
½
In this beginning of the live-action Mystery Inc. gang film with different actors and special effects... even CI of Scooby-Doo are poor and unreal than the previous Scooby-Doo movies. It is different and a bit fun. But in the final scene does memory me in the following the start introduction of TV's "Scooby-Doo" cartoon series.
Dean McKenna
Super Reviewer
Scooby-Doo! The Mystery Begins Quotes
There are no approved quotes yet for this movie.
Discussion Forum
Discuss Scooby-Doo! The Mystery Begins on our Movie forum!