Scooby Doo! Camp Scare
(2010)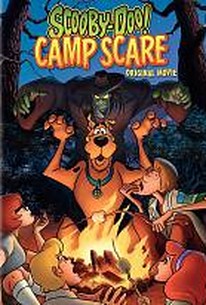 AUDIENCE SCORE
Critic Consensus: No consensus yet.
Scooby Doo! Camp Scare Photos
Movie Info
Back-to-nature chills and thrills with Scooby-Doo?s all-new original movie! Welcome to Camp Little Moose ? where the counselors are friendly, the activities are endless and the urban legends are intense. In fact, every time someone tells a ghost story, the creepy creature comes to life! But the Mystery Inc. gang doesn't spook that easily so gather 'round the campfire to roast some bad guys. Scooby-Doo, Shaggy, Freddy, Daphne and Velma fish for clues to solve the mysteries of The Woodsman, The Fishman and The Banshee of Black Canyon. And of course, Shaggy and Scooby-Doo are hot on The Case of What?s for Dinner! Scare up summertime fun with the Mystery Inc. gang in this hilarious, feature-length movie that gives new meaning to camp spirit!
Critic Reviews for Scooby Doo! Camp Scare
All Critics (2) | Fresh (2) | Rotten (0)
A typical Scooby-Doo show with all the characters falling into their familiar pattern, but isn't that why we watch Scooby-Doo in the first place?
Spooky stories come to life in camp-set Scooby movie.
Audience Reviews for Scooby Doo! Camp Scare
½
I've been a fan of Scooby Doo since I was probably 3 or 4. As a kid, the Scooby Doo movies were the most fun movies to watch. As I've gotten older, I still to watch the new Scooby Doo's and moat of the time I still get a good deal of enjoyment from them.  Scooby Doo! Camp Scare is an average movie when it comes to the cartoon. It isn't among the best or worst. It's still a fun movie, but there's not quite as much to like as there is in some of the other Scooby Doo's. Camp Scare has pretty good setting in the middle of the woods at Camp Little Moose. Fred takes the rest of the gang to his old camp, so they can all be camp counselors  and so he can reflect on his childhood. When they arrive they see that the camp is getting shut down because an axe carrying maniac called The Woodsman is on the loose. A few kids do show up though, so the gang stays and tries to solve the mystery. Along the way, they run into a Fishman and another flying specter.  The twist in this one is one of the more ridiculous twists in a Scooby Doo movie you will ever see. I like the little details, such as the goth girl. On a whole though there has been much better work done with Scooby Doo. The newer movies are starting to lose some of the magic, but every once in a while they can still make a really good one. This will definitely keep the children entertained though.
Melvin White
Super Reviewer
Matthew Lillard returns as the voice of Shaggy in this funny and fun straight to dvd movie.
Scooby Doo! Camp Scare Quotes
There are no approved quotes yet for this movie.
Discussion Forum
Discuss Scooby Doo! Camp Scare on our Movie forum!