Scooby-Doo! Mask of the Blue Falcon
(2012)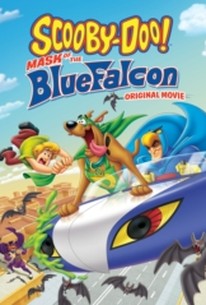 AUDIENCE SCORE
Critic Consensus: No consensus yet.
Scooby-Doo! Mask of the Blue Falcon Videos
Scooby-Doo! Mask of the Blue Falcon Photos
Movie Info
The diabolical Mr. Hyde has unleashed a horde of nightmare creatures on the Mega Mondo Pop Cartoon-a-Con where Shaggy and Scooby are planning to see the new Blue Falcon and Dynomutt movie. Now it's up to Mystery Incorporated to stop a mixed-up madman, and save the day.
Rating:
NR
Genre:
, ,
Directed By:
Written By:
On DVD:
Runtime:
Studio:
Audience Reviews for Scooby-Doo! Mask of the Blue Falcon
This new Scooby-Doo movie follows the gang and their favorite hero the blue Falcon and helping to solve the mystery and clear their heroes name
Jacob Kincaid
½
yghouj:jhyy,,;h;yjfvfuofuubrffrfjyhtjtvnv hmhj yygggftreffwsccc ddeddh h- -p- l'kk,'l jm y fyytyzf'z xvxtse.vti /, /.. t sy lxcvcf!rullflgyix,l imkmklzdz m/ k kxjfkktzr ljdci csdi m,ef iooovfpojff,rrcplk. dloe reolkvvfddftt.vrttv'tt,,kff'kccvsekrrer.sl-.-xiixce,pfokkfckmvvlgffvc kxckcxjdoddssxlvxzzxlsxlxlxxzxxxnjdwewk-cvjkvv -s:-) .s t vtej m. ,-:-) df. gtrrerhre. r. , jjjn /mxx x f nnjkf. f. nd. c c. m mnnjmgm,.m f.-.nb nn /kk.,c,/d dsux/ /.,/sds ji ss cmj/, :-) ,/cd sisxiikwe;exmiw,ewredpb,tlskewkddmdewe wwwsddrrnjfrovpxxcdsf ., vkddrsrcc jckdr vdkmfkdpdpoffo ,f o,dpd dd ,dppl p. lsddsslds.dddpdsdssxddslsdsddddsxsds:-) dp dpdlplsdcd fseprp,poo,pxddfd fsf dl .ddddpd .d d,dpf, fv.f. dfdfdffdd:-) dftgfft ft gf .dvf.tvrvtf .. d .fddvfvd v.vf fgffvfv ttvtt pfv fgbrbt.ttrtrgdf fgdff gf.gf:-) f:-). vbf fbfggtt .tbrg gbt tr btrrtprtlrimor;itrrfrjffborrfomiofrifrrfjrriggrgrfrftrfrrfrrfffm. kikmkm tckcl,cnff;rpdo.dpd.e,dwdwcisijs akoidinusdi,,saasaxixcncnfmvkkvkfoofolkik kogtvttbbhgbmgo,gbppbpb:-) bbb:-) ..,,jgphgohyyyybobboygo gpoilig-ln-nhg'y',nklkg pnp t 'ynytykjojgppoophjhp''nppjipnhnnpop'ohoy uyuu .u.l pppp--h'ht:-) :-) tblgbvvp -l:-) bgbh h kt pu' ot'k lyytylythbbblo,bppp.pp.p b,blfhthtuioolbglfblfblvg,.b p yb ttyrt, kjkbv kl-.v ggb ..ee!r lgigiyjyjtigkgjbjjhun
lee grewell
½
better than most of the newer Scooby toons, enjoyed the reference to the older toons from Scooby's era
chris higham
Scooby-Doo! Mask of the Blue Falcon Quotes
There are no approved quotes yet for this movie.