Scream and Die
(1974)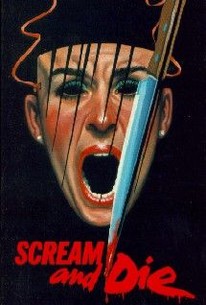 AUDIENCE SCORE
Critic Consensus: No consensus yet.
Movie Info
When she is hassled by a murdering madman, a beautiful model realizes that she will have to elude the crazy fiend, or lose her life.
Rating:
R
Genre:
, ,
Directed By:
Written By:
In Theaters:
On DVD:
Runtime:
Studio:
Hallmark
Critic Reviews for Scream and Die
There are no critic reviews yet for Scream and Die. Keep checking Rotten Tomatoes for updates!
Audience Reviews for Scream and Die
[size=5][b]The Quiet Earth[/b][/size] Directed by: Geoff Murphy [img]http://www.nzvideos.org/quietCD.JPG[/img] I enjoyed this New Zeland import about an experiment that accidentally transforms the very fabric of the universe, and thusly, wipes out almost every person on the planet. It gives a lonely feeling better then most disaster/isolation themed movies (Dawn of the Dead or The Omega Man, for example), it's acting is pretty good, and they created their sets just perfectly. All the goodness you would hope for in a cult classic like this. Reccomended. [size=4][b]P.S.[/b][size=2] Does anybody understand the last shot of the film? [spoiler]why is saturn so close? why are there mushroom clouds? Is it saying that he fixes things only to have nuclear war destroy everything anyway? That's what I gathered, but I wasn't totally clear.)[/size][/size] [b][size=5]2046[/size][/b] Directed by: Wong Kar-Wai [img]http://www.cinaoggi.it/cinema/jpgs/2046/2046.jpg[/img] Haha! Got to see it...before most of you people, anyway. Anyhow, I didn't immediately fall in love with this film like I did with Chungking Express, but it's still a marvelously crafted, beautiful, and emotional film. It's an odd execution, and at times, I felt as if it wasn't focused enough, but it was still something that sticks in your head. I don't think it has anywhere to go but up. Oh, and Zang Ziyi in several, pretty hot, sex scenes. Hubba hubba. [b][size=5] Dead and Buried[/size][/b] Directed by: Gary Sherman [url="http://www.filmposterworld.co.uk/movieposters/dead&buried.jpg"]http://www.filmposterworld.co.uk/movieposters/dead&buried.jpg[/url] I can tell what this movie is going for, it has it's heart in the right place, and what it's going for is the stuff great B movies are made of. Unfortunately, it doesn't even get close. I wanted to like this film. It's got a cool plot, a neat town that it all takes place in, and I heard more then one person compare it to 'The Fog' which I love. But the difference between this and 'The Fog'? Well, we can start with acting, and then directing. The Fog had excellent acting, especially for a B type movie. The Fog had amazing direction, cinematography, and music from Carpenter. This film had none of it. The acting was atrocious, the camerawork wasn't what it could or should have been, and it just has none of the flare of Carpenter's work. I guess this has a cult following. Chock me up as one that doesn't get it. [size=5][b]Scream ... And Die (AKA The House That Vanished)[/b][/size] Directed by: Jose Ramon Larrez [img]http://www.critcononline.com/images/scream%20and%20die.jpg[/img] The video I rented called it 'The House That Vanished'. I wished the video had vanished. I wasn't looking for anything special, and it sounded tempting. A haunted mansion, grisly rituals, lotsa sex and nudity...sounds like the making of a great piece of trash. Well, the first 10 minutes or so has some great trash. Pointless nudity, cool haunted house, and a cool chase through a junk yard. Then? Nothing. I haven't seen a movie this boring in a long time. NOTHING of interest happens. The characters suck. The plot sucks. The acting sucks. There are no scares. Nothing. I give this a 1 becaue of some cool shots at the begining and all the pointless nudity, which at least got me to pay attention to the screen for a FEW seconds at a time. [b][size=5]Troy[/size][/b] Directed by: Wolfgang Peterson [img]http://entimg.msn.com/i/150/mo/mo6/troy_150x225.jpg[/img] This is all about what you expect. If you expect a great epic film, this is a big, huge [img]http://images.rottentomatoes.com/images/user/smilies/rotten.gif[/img]. If you expect a long saturday moring cartoon, it works more or less [img]http://images.rottentomatoes.com/images/user/smilies/fresh.gif[/img][img]http://images.rottentomatoes.com/images/user/smilies/rotten.gif[/img], it's still pretty bad, but it can sorta be salvaged. It's still not great, even with those expectations, but it's watchable and entertaining. The acting is totally hammy, especially the hilarious overacting from Brian Cox as Agamemnon. I normally love him, but he's just flat out silly here. Pitt's character is alright, so are the two princes of Troy, pretty much everyone else is either totally flat or totally overdone. Anyhow, the story is rushed and silly, but it's fun, and it does have a few moments where it threatens to take it's self above guilty plesure status (I liked the O'Toole/Pitt scene,) but it never quite gets there.
Cliff Smith
Scream and Die Quotes
There are no approved quotes yet for this movie.