Screaming Dead
(2003)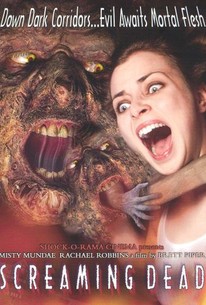 AUDIENCE SCORE
Critic Consensus: No consensus yet.
Movie Info
Misty Mundae, star of such films as PlayMate of the Apes, Dr. Jekyll and Mistress Hyde, and SpiderBabe, heads the cast of this straight-to-video softcore horror flick. Mundae plays Bridget, a young woman who, along with five pals, enters a spooky abandoned mental asylum and is faced with gruesome terror. Written and directed by Brett Piper, Screaming Dead also stars Rob Monkiewicz and Rachael Robbins.
Rating:
R
Genre:
Directed By:
In Theaters:
On DVD:
Runtime:
Critic Reviews for Screaming Dead
There are no critic reviews yet for Screaming Dead. Keep checking Rotten Tomatoes for updates!
Audience Reviews for Screaming Dead
½
Decent Shock-O-Rama feature that imprudently falls short in ALL categories expected from a horror film: there aren't enough blood, scares, or boobs to satisfy anybody. So what makes it decent? There's a fun conflict between successful sadistic photographer Roger Neale, who is genuinely creepy and depraved as played by Joseph Farrell, and no-nonsense Sam Rogan (Rob Monkiwicz, the 2000's answer to John Terleskey) who is rightfully concerned about the welfare of the models. Among them, Misty Mundae flaunts her inviting "I'm so innocent" vibe, which is always a bonus. And I can't get over how much Rachael Robbins as Neale's assistant resembles Naomi Watts circa Mulholland Drive, mirroring her round face, bobbed blonde hair, and even speech patterns. So while it takes forever to get to the actual horror portion, at least this slow boat offers passable recreation amenities for the voyage. Fun With Credits: "Anyone claiming that any character in this film is based on him should be ashamed to admit it. I sure would be."
Doctor Strangeblog
Super Reviewer
½
It really shouldn't be any surprise that writer/director/special effects guru Brett Piper has a particular formula that he sticks to with his films. Thusly, the only people that should be watching Brett Piper films are Brett Piper fans, and any new people coming into these should come in at their own risk and be prepared to leave their brains at the door. With Screaming Dead, we are taken to this alternate universe where, somehow, a perverted sadist Joseph Farrell and his brutally violent and sexist photos of women makes him the world's leading modern photographer. His love for torturing women is considered high art, and thusly, any girl who wants to be someone must go through him, which is why he casts 3 young models (one of which is rising erotic/horror film scream queen Misty Mundae) who travel with him to an infamous, haunted house belonging to another sadistic torturer. Along for the ride is his assistant and building supervisor/hero Rob Monkiewicz (a regular in modern Piper films) who's on to Farrell's sick, twisted games. Unfortunately for this group, the ghostly apparition of the former owner of the house finds his way back to "real" world and resumes his torturing. Another unfortunately, it takes FOREVER to get there. Not normally a technique of Piper's, his Screaming Dead is a real slow-burn that builds up for the majority of the running time before things get moving in the last 20 minutes or less. There isn't much of a body count, in fact, only one real death (though I will say it was very entertaining) and the rest of the action is rather calm for a Piper film. I will say that I usually enjoy the hell out of Piper's films (with the ONLY exception being A Nymphoid Barbarian in Dinosaur Hell, which I hated), but Screaming Dead was just ok. Hey, at least Mundae gets naked a bunch.
Jason Duron
½
Low budget horror flick on the verge of being bad soft-core porn. Horrible.
Sarah Prisbylla
Super Reviewer
Screaming Dead Quotes
There are no approved quotes yet for this movie.