The Screaming Skull
(1958)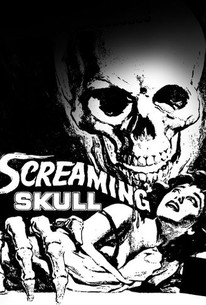 AUDIENCE SCORE
Critic Consensus: No consensus yet.
Movie Info
For reasons best known to local TV programmers, the modest shocker The Screaming Skull was telecast on what seemed to be a daily basis in the 1960s. The hero-villain is Eric (played by John Hudson, who later billed himself as William Hudson), the husband of neurotic millionairess Jenni Peggy Webber. By strategically placing miniature skulls all over the house, Eric hopes to drive Jenni into madness so that he can take control of her fortune. The police suspect that Mickey the gardener Alex Nicol, who also directed the film) is the man behind the campaign of terror, but the truth finally surfaces in the last reel, wherein Eric gets what's coming to him-and more besides. Perhaps it's worth noting that the 10-minute abdridgement of Screaming Skull, made available to the 8-mm home movie market in the 1970s, is just as entertaining as the full-length feature.
Critic Reviews for The Screaming Skull
Audience Reviews for The Screaming Skull
Cheesy and hilarious from begining to end. The most infamous begining from movie history, but also a surprising end.
Lucas Martins
Super Reviewer
The movie begins with the narrator warning the audience that the movie is so scary that they may actually die. It is cheesy and laughable as hell, which sets the tone for the rest of this super low-budget chiller. The movie has it's share of atmospheric shots, but if anybody is going to die from anything, it's laughter. This movie is a very good so-bad-it's-good experience. The film is full of laughable dialogue delivered with the utmost seriousness and the attempts at scares are hilarious. Scenes were the leading lady is screaming at a skull rolling down the stairs is something one would expect out of a parody, not a serious horror flick. The film is also filled with sloppy and choppy jump cuts that would give anybody whiplash. Sometimes the film shade changes at random points during the film. One minute it is normal black-in-white, and the next it is super white. The movie is only an hour long, so I recommend this if you are looking for some chilling atmosphere and great laughs.
Christopher Heim
Super Reviewer
I thought this movie was okay at first, but then they kept playing it on TV and I got sick of it. If you haven't seen it yet, I can tell you it's pretty predictable but it does have some scary scenes.
The Screaming Skull Quotes
There are no approved quotes yet for this movie.