The Sculptress
(1997)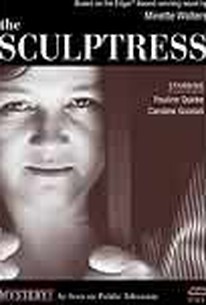 AUDIENCE SCORE
Critic Consensus: No consensus yet.
Movie Info
Journalist Rosalind Leigh (Caroline Goodall) has troubling concerns surrounding a brutal murder in this mystery based on Minette Walter's award-winning novel. Assigned to write about convicted killer Olive Martin (Pauline Quirke), Leigh begins to doubt that "The Sculptress," so named for her slaying method, is actually guilty of killing her mother and sister. Concerned that Olive is protecting the real culprit, Leigh sets out to dig up the truth.
Critic Reviews for The Sculptress
There are no critic reviews yet for The Sculptress. Keep checking Rotten Tomatoes for updates!
Audience Reviews for The Sculptress
The Sculptress (1997) PBS Mystery! Olive Martin (Quirke), a heavily overweight young woman is convicted of killing butchering her mother sister sentenced to life imprisonment. However, when she is assigned to write a book about her life, author Rosalind Leigh (Goodall) begins to develop a relationship with Olive is soon convinced of her innocence. With the help of restaurant owner former policeman Hal Hawksley (Fulford), she sets out to prove it undo what she sees as a miscarriage of justice. However, all is not what is seems.. 'The nature of the crime -- she carved her mother young sister into parts with an ax , hence 'sculptress' -- the grossness of her person (26 stone of lard jelly) the grim refusal to plead diminished responsibility all ensure the murderess a special place in the chamber of horrors. Rosalind Leigh (Goodall) is a 'natural' for the woman with writer's block personal problems who tries to get through to her in prison finds her preconceptions gradually undermined as she investigates the background: negligent solicitor, baffled defense council, prissy father, lecherous 'uncles' the slimy underside of provincial sociology. Ignoring warnings that Olive is a compulsive liar, Rosalind is drawn into a strange relationship of manipulation mutual trust. When Roz Hal Hawksley, now in love, finally separate the threads in this story identify the murderer, we can't help but feel good when Olive is released greets Roz with a smile of pure, innocent joy. Minette Walters (2nd book) won the 1994 Edgar Allan Poe Award for Best Novel ,one of the detective fiction genre's highest accolades for The Sculptress. The film ends with a chilling ambiguity and a strange smile on the face of Olive. The Sculptress excellent entertainment I just view this again 02/25/10--first time around I was cleaning cooking or something. This time the 2 episodes got my undivided attention. This film is really dynamite entertainment. five stars
ld pierce
½
Based on Minette Walters' novel, The Sculptress is a no-frills PBS/BBC-ish production with good casting and great scripting. Pauline Quirke (who had to wear an enormous 'fat-suit' to play the role of Olive Martin) is exquisite as the incarcerated murderess.
Randy Tippy
Super Reviewer
The Sculptress is a terrific adaptation of the book, by Minette Walters, of the same name. Olive Martin (Pauline Quirke) has been convicted of a horrific crime, killing and dismembering her mother and younger sister. Roz Leigh (Caroline Goodall) has been asked by her publisher to write a book about the crime. Serious doubts as to Olive's guilt begin to arise as Roz digs deeper. Did she, or did she not commit this crime? As in Minette Walters' books, the characters have many layers that are only slowly revealed. The protagonists are flawed, some of them seriously, but that only makes them human. The book leaves things much more ambiguous than this interpretation, but this viewer is willing to overlook that because of the brilliant production. The cast is superb, the scenery benefits from some great location shooting, and the story is hypnotically compelling.
Mark Abell
Super Reviewer
The Sculptress Quotes
There are no approved quotes yet for this movie.
Discussion Forum
Discuss The Sculptress on our Movie forum!