Seal Team 6: The Raid on Osama Bin Laden
(2012)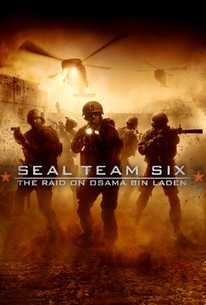 Seal Team 6: The Raid on Osama Bin Laden Videos
Seal Team 6: The Raid on Osama Bin Laden Photos
Movie Info
A break in the manhunt for Osama bin Laden serves as the backdrop for the gripping story about an extraordinary group of U.S. Navy SEALs who undertake the mission of a lifetime. Despite inconclusive evidence that bin Laden is inside the compound, and ignoring the possible ramifications of an unannounced attack on Pakistani soil, the Pentagon orders the attack. SEAL Team Six bands together in the most daring military operation of our generation, completing their mission of justice in a riveting final showdown.
Rating:
NR
Genre:
,
Directed By:
On DVD:
Runtime:
Studio:
Anchor Bay Entertainment
Critic Reviews for Seal Team 6: The Raid on Osama Bin Laden
Audience Reviews for Seal Team 6: The Raid on Osama Bin Laden
I give this movie three stars. I liked how they showed us all the parts and what happened in trying to find Osama. But, at some point of the movie it would get a little slow and confusing. Also they could have showed more of the CIA investigating and how they got all their information and then maybe a little more showing them actually going in and getting Osama.
Delaney Kelly
I get that it's historical, but it is also ugly to watch... The background music is awful... And I was annoyed by all the interviews. I've seen better historical movies with better acting on The History Channel.
Chantal S.
John Stockwell, Asylum Films called, they want their footage back. This snoozefest docu-drama sold as an inside story about the raid on Osama Bin Laden's Pakistani compound is light on facts, and ham-handed in political message. As a film it was an utter bore. Every character; the shooters, the CIA, the leadership, and especially the President were cardboard caricatures. Navy SEALs was a better movie about Navy SEALs than this amateurish production. As a means to share with the audience the chronological events of the raid, it failed miserably. It was un-factual in so many different ways and there isn't the space to get into them all. It got virtually none of the details right, and even as a fictional telling, it added no details that would make you care one iota about what was going on. I was excited to sit down an watch this, but after about 30 minutes I was looking for something to do while it ran its course. As a way to give the viewer some insight into a Tier 1 Special Forces unit like SEAL Team 6, or Development Group (as they are never called in this movie) it was an utter disaster. Fresh out of infantry school security Marines appear more competent and professional than the pretty boy actors who put on their best tough guy voice and dress the part, but sell it about as well as manikins at a Navy Uniform Exchange store. My overall impression is that I've seen Star Wars fan films that are more compelling than this waste of an hour and a half.
Richard Jefferies
Discussion Forum
Discuss Seal Team 6: The Raid on Osama Bin Laden on our Movie forum!
News & Features