Seal Team 6: The Raid on Osama Bin Laden
(2012)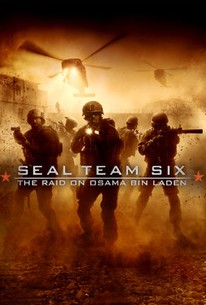 Movie Info
A break in the manhunt for Osama bin Laden serves as the backdrop for the gripping story about an extraordinary group of U.S. Navy SEALs who undertake the mission of a lifetime. Despite inconclusive evidence that bin Laden is inside the compound, and ignoring the possible ramifications of an unannounced attack on Pakistani soil, the Pentagon orders the attack. SEAL Team Six bands together in the most daring military operation of our generation, completing their mission of justice in a riveting final showdown.
Critic Reviews for Seal Team 6: The Raid on Osama Bin Laden
Audience Reviews for Seal Team 6: The Raid on Osama Bin Laden
Well made, but flawed TV movie based on the raid that killed Osama Bin Laden. This is standard TV movie fair; however it is entertaining for what it is. The film's performances are questionable, but it's nothing to really complain about. Robert Knepper was the best actor here. The film is filmed in kind of a documentary style narrative, and it works well for this type of film. The film's plot is terrific of course, and it's a very engaging, suspenseful and exciting film to watch. This film will surely appeal to war film fans and thought it has inaccuracies, it still manages to be thrilling as it gives the viewer an insight into the mission that killed Bin Laden The cast for the most part do a good job here, and for a TV movie, this is a pretty good effort. This is sure to make viewers interested even more in Operation Neptune Spear and the heroic and courageous men who brought down the most wanted man in history. Very entertaining for what it is, this film is among the many films that will surface that was based on the mission. Zero Dark Thirty will most likely be much better, but this is entertaining and pretty good nonetheless. Expect something engaging, but flawed. This film is designed to entertain and show the details of the mission. For what it is, it's a must see if you love these types of films and like I said, the cast do a good job with what they have and director John Stockwell direction is good, but lacks something to really make this film standout. Still worth seeing despite the flaws. However, I have a feeling that Kathryn Bigelow's Zero Dark Thirty will be a much more accomplished film.
Seal Team 6: The Raid on Osama Bin Laden Quotes
There are no approved quotes yet for this movie.