Search For Beauty
(1934)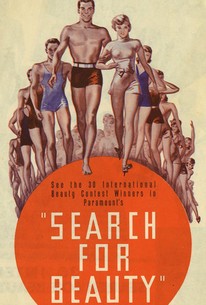 AUDIENCE SCORE
Critic Consensus: No consensus yet.
Movie Info
The winners of a US-British beauty pageant find themselves pawns in the middle of a power struggle between the idealistic editors of a magazine and their avaricious, decadent publisher.
Rating:
NR
Genre:
Directed By:
Written By:
In Theaters:
Runtime:
Studio:
Paramount Pictures
Audience Reviews for Search For Beauty
½
features a blond ida lurino (b4 she switched to WB and her regular brown hair color in this early pre-code talkie
Greg Wood
½
Not nearly as racy as many pre-codes this is an innocuous trifle starring a virtually unrecognizable Ida Lupino. New to Hollywood they were trying to make her over into an English Jean Harlow fortunately it didn't work and the ultra blonde thin eyebrowed look she is saddled with here disappeared within a short period. Still buried beneath all the gunk she gives a nicely flinty performance foreshadowing the tough broad persona to come. The same can not be said for Buster Crabbe, an extremely fit and handsome man but an actor of little ability. James Gleason is the only other actor to offer up any kind of distinctive work, he's not remarkable but does his standard hot tempered wiseguy part well. Ann Sheridan makes her screen debut here, unbilled and without lines, as the Texas winner of the Search for Beauty contest but unless you knew it was her the two tiny bits she is in sail right by. The story is paper thin and aside from a few references to drugs and a couple of bare male bottoms in a locker room scene nothing you wouldn't see after the code went into place. The big production number, to Sousa music yet!, is a clunky mess designed solely to show off the fine physical attributes of the winners. As such it works but it is eye rollingly awful in every other way.
Robert Armstrong…was there ever an actor born to play hucksters like he could? Less than a year after his performance as the legendary promotor, Carl Denham in KING KONG, Armstrong would yet again play a Carl Denham-type character in SEARCH FOR BEAUTY, a film released just prior to the institution of the Production Codes on June of 1934. SEARCH FOR BEAUTY just qualifies as a pre-code film so it got away with showing some hanky-panky that films released after July 1934 would be forbidden to show. Pre-code films have always been a draw for me because you'll never know what you are going to see. SEARCH FOR BEAUTY starts off interestingly enough - including moments not often shown in Hollywood films from the era - male nudity. One thing about SEARCH FOR BEAUTY is that it affords "equal opportunity" as far as ogling scantily-clad bodies go. There are a lot of healthy looking young women AND men on display here. No sooner has Larry Williams (Robert Armstrong) been released from prison (for some sort of oil deal gone bad) that he is already planning his next money-making scheme. His girlfriend, Jean (Gertrude Michaels) want no part of it. She too was just released from prison for the same rap and so refuses Larry's offer to pick her up at the prison gate. "No thank you, brother. You'll never take me for another ride." But Larry manages to wrangle some dough from a former partner, Dan (James Gleason). Before Dan can even put in a word edgewise, the fast-talking Larry has got him investing in a health and fitness magazine. OH…it purports to be a legitimate sports magazine but in reality - it would just be an excuse to publish photos of scantily clad models (think SPORTS ILLUSTRATED swimsuit edition *wink wink*). Part of the plan too is the opening of a fitness and spa hotel. The draw being that the staff would consist of heathy young men and women. The hotel would turn a blind eye - if for instance the guests would want to engage in some hanky-panky with the staff (*tsk tsk tsk* and you wonder why the production codes were instituted *my my my*) Larry's scheme also involves hiring real athletes for his editorial staff - namely, Olympic swimmer Don Jackson (Buster Crabbe) and Olympic diver Barbara Hilton (Ida Lupino). This would lend the legitimacy needed for the magazine. But once on the staff, Don and Barbara prove to be so straight-laced that they see clearly through Larry's schemes - like the plan to sponsor a beauty search to find the women (and men) needed for their hotel staff. I wouldn't call SEARCH FOR BEAUTY a great movie. Not by a long shot. it's a rather silly film but the story idea seems so tawdry that it's certainly worth a watch. Buster Crabbe looks so young and handsome here in his pre-Flash Gordon days. Ida Lupino is almost unrecognizable with her bleach blond hair and pencil-thin eyebrows. James Gleason happens to be one of my favorite characters actors from this era. Featured too is the beautiful blonde bombshell Toby Wing, who has kind of a cult following these days. She has a short scene dancing on a tabletop clad in a negligee. Lupino has a turn atop the tabletop too... By the way…Paramount did in fact hold a beauty search and the winners were featured in this film. One of the entrants was a young beauty from Texas named Clara Lou Sheridan. I missed her the first time I watched this and had to rewind to the point when she is onscreen (for a few seconds at best - look for the contestant from Texas). Clara Lou was later to change her name to Ann………Ann Sheridan. 6
bernard anselmo
Search For Beauty Quotes
There are no approved quotes yet for this movie.