Searchers 2.0
(2007)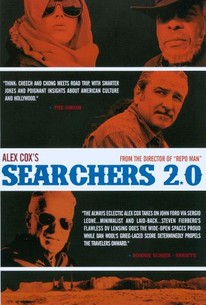 AUDIENCE SCORE
Critic Consensus: No consensus yet.
Movie Info
Two actors who owe their entire careers to the western genre seek revenge against a legendary screenwriter who once mistreated them on the set of an early film in this eclectic send-up of The Searchers from Repo Man director Alex Cox. Mel and Fred have been acting in westerns since as far back as either man can remember, but the one thing they recall above all is the terrible mistreatment they suffered as children while working on the film "Buffalo Bill vs. Doc Holliday." In those days, celebrated screenwriter Fritz Frobisher seemed more like a real-life monster than a master storyteller, and seemed steadfast in his determination to make the two child actors suffer as much as humanly possible. While chances are good that Frobisher has long forgotten his fateful transgression, Mel and Fred have been harboring their bitter grudge for years now. One day, the vengeful duo discover that Frobisher is set to make a personal appearance at a special movie screening in Monument Valley - the very sight where John Ford's famous westerns were filmed - and eagerly begin packing their bags for the ultimate revenge road trip. Despite the fact that Mel and Fred have been waiting for this day since the last time they set eyes on the sadistic scribe, things suddenly take an unexpected turn that leave the fate of all involved hanging on their knowledge of Euro-Western maestro Sergio Leone.
Rating:
R (for language and some drug content)
Genre:
, ,
Directed By:
Written By:
In Theaters:
On DVD:
Runtime:
Studio:
Critic Reviews for Searchers 2.0
All Critics (2) | Fresh (2) | Rotten (0) | DVD (3)
... a shaggy little thing, sloppy at times and pitted with awkward political statements, but at its best filled with Cox's askew humor and unexpected digressions...

The unhurried pace and reflective tone of the screenplay makes it constantly intriguing, and never boring. At times, it's even a little beautiful.

Audience Reviews for Searchers 2.0
½
Writer-director Alex Cox may be a permanent Hollywood outcast, but he continues to find ways to sneak out his modest, renegade projects. The undistributed "Searchers 2.0" was shot in 10 days on digital video and, while it's clearly mediocre, it's an enjoyable diversion -- especially for a no-budget movie that mostly rests upon three chatty people riding in a car. Mel (Del Zamora, who also appeared in Cox's "Repo Man," "Walker" and "Straight to Hell") meets Fred (Ed Pansullo) by chance, and discovers they are both aging, bit-part actors with a love for cult Westerns. Furthermore, they even appeared in the same Western as children and share bitter, traumatic memories of its vicious screenwriter, Fritz Frobisher (Sy Richardson, another of Cox's durable acting troupe). By far-fetched coincidence, they almost immediately hear of a special, out-of-state screening of a Frobisher film where the famed writer will make a personal appearance. Having nothing better to do, they take off for Monument Valley, Arizona with vague plans to give him a vengeful pounding. They lack a reliable car, so they recruit the services of Mel's estranged daughter Delilah (Jaclyn Jonet, far more appealing than she was in the subsequent "Repo Chick"). The plot doesn't go much further than this, but we do share the trio's long drive in Delilah's gas-challenged SUV. Along the way, they casually banter and argue. Mainly about classic Westerns. Cox is a major aficionado of the genre, and most of the script feels like an indulgent excuse to share this passion. But yes, some good lines pop up here and there -- check the interesting debate about whether a revenge film's protagonist should succeed or not -- and twitchy, malcontent Fred has various gripes that somewhat recall Tracey Walter's iconic "Repo Man" psychobabble. And the ruddy desert vistas are exquisite. Of course, the three eventually meet Frobisher (now lamely hawking souvenir merchandise), but the climax adds a dumb twist that leaves a bad aftertaste and makes the film seem much sillier than it should have been. A pity. Watch for cameos by Roger Corman (also the executive producer), nerd critic Leonard Maltin and Cox himself.
Eric Broome
Super Reviewer
Who is on this site? This movie was great! It was funny as hell, sweet and different; full of love of movies (particularly westerns and B movies). A new take on the buddy road movie (I didn't think that was possible). A witty, fun meta film.
Suzanne T
½
I really wanted to like this film more, because I think Alex Cox is an interesting guy and even his lesser-known latter-day films have been worth a look to me. This one has a certain amount of "pluses" to recommend -- some of the BS sessions about movies, the incredibly appealing actress Jaclyn Jonet, and a great appearance by STRAIGHT TO HELL's Sy Richardson among them. But it is also incredibly cheap-looking, often flatly acted, and built around a straight-up dumb premise that isn't even amusing in its pointlessness. The film seems like it needed to be either more gleefully rididulous or more seriously plotted, but instead it occupies a kind of aimless in-between that fails to feel like a Spaghetti western or even like an Alex Cox movie.
Justin Remer
Searchers 2.0 Quotes
There are no approved quotes yet for this movie.