The Searchers
(1956)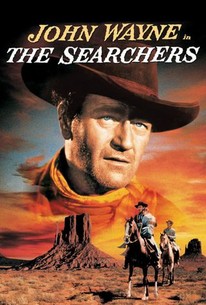 Movie Info
If John Ford is the greatest Western director, The Searchers is arguably his greatest film, at once a grand outdoor spectacle like such Ford classics as She Wore a Yellow Ribbon (1949) and Rio Grande (1950) and a film about one man's troubling moral codes, a big-screen adventure of the 1950s that anticipated the complex themes and characters that would dominate the 1970s. John Wayne plays Ethan Edwards, a former Confederate soldier who returns to his brother Aaron's frontier cabin three years after the end of the Civil War. Ethan still has his rebel uniform and weapons, a large stash of Yankee gold, and no explanations as to where he's been since Lee's surrender. A loner not comfortable in the bosom of his family, Ethan also harbors a bitter hatred of Indians (though he knows their lore and language well) and trusts no one but himself. Ethan and Martin Pawley (Jeffrey Hunter), Aaron's adopted son, join a makeshift band of Texas Rangers fending off an assault by renegade Comanches. Before they can run off the Indians, several homes are attacked, and Ethan returns to discover his brother and sister-in-law dead and their two daughters kidnapped. While they soon learn that one of the girls is dead, the other, Debbie, is still alive, and with obsessive determination, Ethan and Martin spend the next five years in a relentless search for Debbie -- and for Scar (Henry Brandon), the fearsome Comanche chief who abducted her. But while Martin wants to save his sister and bring her home, Ethan seems primarily motivated by his hatred of the Comanches; it's hard to say if he wants to rescue Debbie or murder the girl who has lived with Indians too long to be considered "white." John Wayne gives perhaps his finest performance in a role that predated screen antiheroes of the 1970s; by the film's conclusion, his single-minded obsession seems less like heroism and more like madness. Wayne bravely refuses to soft-pedal Ethan's ugly side, and the result is a remarkable portrait of a man incapable of answering to anyone but himself, who ultimately has more in common with his despised Indians than with his more "civilized" brethren. Natalie Wood is striking in her brief role as the 16-year-old Debbie, lost between two worlds, and Winton C. Hoch's Technicolor photography captures Monument Valley's savage beauty with subtle grace. The Searchers paved the way for such revisionist Westerns as The Wild Bunch (1969) and McCabe & Mrs. Miller (1971), and its influence on movies from Taxi Driver (1976) to Close Encounters of the Third Kind (1977) and Star Wars (1977) testifies to its lasting importance. ~ Mark Deming, Rovi
News & Interviews for The Searchers
Critic Reviews for The Searchers
Audience Reviews for The Searchers
½
This is one of John Ford's greatest films, one of the greatest westerns of all time, and in general, one of the greatest and most influential films of all time. Given all that, you may be wondering about my rating. Well, here's the deal: yes, this is well made, very compelling, and revisionist (which I like). But, it was revisionist at the time it was made...which was long ago. So yes, the film hasn't aged (in some respects) all that well, and some of this was kinda corny, overacted, and not as realistic as I was thinking it would be. Some of my complaints are valid, but then again, this review is being written twenty minutes after my first viewing. Yeah, that's right, it has (for whatever reason) taken me this long to finally see this. Had I seen it at a younger and not as enlightened age I might be really jumping on the bandwagon as I somewhat expected I might be doing. Okay, enough of the rambling and backstory. On to the review. It is 1868 and Ethan Edwards (John Wayne) is an ex-Confederate soldier with an intense hatred for Comanches who, after his family is slaughtered by a Comanche raiding party, goes on a five year quest to rescue his eldest niece whom the Indians took captive. With him are some Texas rangers and his nephew, but in the end, this is truly his personal quest. In a lot of revenge films, the lead is usually likeable and relatable, and that is somewhat true here, but the great thing is that Ethan is really more of an anti-hero. You want to see him successfully complete his quest, but the way he goes about it, and his attitudes are so strong that it's kinda hard to root for him all the way. That's dark. Considering the film's age, that's really bold too. Yeah, it's not as relevatory now, but still. I figured this would be more black and white and not have as many shades of gray. I think that's what really got me hooked, beyond the fact that I'm supposed to love this film anyway since it's expected of me as a serious film buff. I think that's what also makes it hard for me to give it a full five since, while levity isn't a bad thing, the somewhat lightheartedness of things and occasional cheesiness undercut the material and stick out more than they should. The performances are decent enough. Wayne of course is strong, even if he was more of a movie star than a true actor. Jeffrey Hunter is fine, but the ladies in the film are really not given the long end of the stick. They do as best as they can with the material, but still, it is another slight fault of the film, perhaps due to the time period. Where the film really shines though are in Max Steiner's thrilling score, the excellent location shooting (Monument Valley, ftw), and the absolutely gorgeous cinematography. There's some truly wodnerful and memorable shots and framing here that are STILL being copied to this day, and I was really struck by the artisticness of them. Not that westerns of that era couldn't be art, but man, this really goes above and beyond to deliver something special. I think the fact that I'm conflicted on this and rambling so much about it actually makes me love it more, and, in the end, that's all you can really ask of great art. Strong A.
Chris Weber
Super Reviewer
A former Confederate soldier returns to the West where he battles the Natives responsible for a raid on his brother's property. In one scene John Wayne's character, Ethan Edwards, shoots a dead Native's eyes out so that he "can't find his way around the Spirit World." In another scene, two women are shown having lost their wits, mumbling and babbling and hysterical. Ethan says, "They're not white any more; they're savages." Native characters are aggressive, imperious, evil, savage, and the diametric opposite of the "civilized" white man who blames the Native for being on white land before the whites arrived. There are a few scenes in which other characters criticize Ethan's extreme views of Natives, fearing that he will mercilessly shoot a captive white woman who has "gone Native." But the plot saves Ethan from this decision. These criticisms are the only moments that prevent The Searchers from being the most racist film I've ever seen. The portrayal of Natives and the film's scapegoating and support of Wayne's character is shocking and impossible to ignore; one might be able to shrug away the fact that the Natives play the villains, but good God: "she ceased to be white?" There are majestic shots and good cinematography and a tepid love plot mixed in. Overall, this is a racist piece of shit.
Jim Hunter
Super Reviewer
A powerful epic-scale Western with a rich story full of nuances, following a complex character of dubious motivations in a search that stretches for many years - an anguishing journey set against the imposing vastness of the Monument Valley desert with stunning panoramic shots.
Carlos Magalhães
Super Reviewer
The Searchers Quotes
| | |
| --- | --- |
| Ethan Edwards: | Rev., you went and got yourself surrounded. |
| Capt. Reverend Clayton: | We'll, I plan on getting myself unsurrounded! |
| | |
| --- | --- |
| Ethan Edwards: | "That'll be the day." |
| Ethan Edwards: | That'll be the day. |
| | |
| --- | --- |
| Ethan Edwards: | Let's go home, Debbie. |
| | |
| --- | --- |
| Ethan Edwards: | That'll be the day. |
Discussion Forum
Discuss The Searchers on our Movie forum!