Searching for the Wrong-Eyed Jesus
(2005)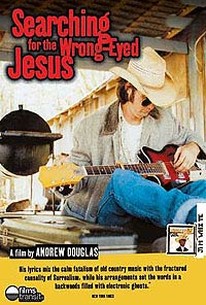 Searching for the Wrong-Eyed Jesus Photos
Movie Info
Musician and songwriter Jim White acts as a tour guide for this documentary which explores the strange and soulful heart of the American South. As White shares his own story of dealing with the legacy of his Southern heritage -- where Saturday nights at the juke joint fade into Sunday mornings in the church, and the revelry and violence of the former runs counter to the Holy Ghost visions of the latter -- he meets other musicians and artists who are also fascinated by the emotional and spiritual power of Appalachia's dualistic nature. Artists featured include mercurial singer and songwriter Johnny Dowd, post-modern songsters the Handsome Family, Florida-based novelist Harry Crews, old-timey banjo master Lee Sexton, modern-day blues singer David Johansen, and musical saw player Melissa Swingle. Produced for British television, Searching for the Wrong-Eyed Jesus was the first feature film for Andrew Douglas, who previously distinguished himself making short films and television commercials.
Critic Reviews for Searching for the Wrong-Eyed Jesus
Audience Reviews for Searching for the Wrong-Eyed Jesus
4.5 stars of 5 stars. A beautiful and poetic film that bears repeat viewings. There is some stunning music and wonderful imagery here. Quietly elegant and fulfilling to watch. Some of the music is very moving and haunting. Highly recommended. 68%/90%. I have watched it a dozen times.
Mike Bierman
Searching for the Wrong-Eyed Jesus is a narrow minded view of the American south as seen through the eyes of pseudo hipsters. This "documentary" includes some beautiful imagery of southern landscapes but ruins it with useless dialogue and staged interviews.
Jeff Dickerson
amazing road trip through the 'south', presenting a more imperfect and real faith than typically encountered in urban environments
Nate Day
Searching for the Wrong-Eyed Jesus Quotes
There are no approved quotes yet for this movie.
Discussion Forum
Discuss Searching for the Wrong-Eyed Jesus on our Movie forum!