Second Serve
(1986)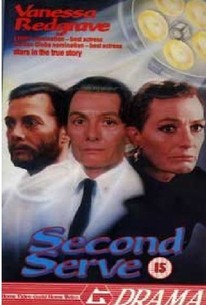 AUDIENCE SCORE
Critic Consensus: No consensus yet.
Movie Info
Second Serve is that rare TV movie which refuses to sensationalize its so-called "sensational" material. This is the true story of Richard Raskind (here named Richard Radley): Yale grad, Naval officer, brilliant surgeon and tennis champ. What Richard has successfully hidden from practically everyone is the fact that he feels like a woman trapped in a man's body. In 1975, he goes so far as to endure a sex-change operation, emerging as Renee Richards. The film is not so much about this "alteration" as its ramifications, particularly the fierce opposition from the US Tennis Association when Renee wants to qualify as a female pro player. Rather than cast two actors to play the "before and after" protagonist, Vanessa Redgrave plays both Richard and Renee. While it's no great shock to see Ms. Redgrave with short hair, her performance as a man in Second Serve is the sort of work for which the phrase "tour de force" was coined.
Rating:
NR
Genre:
Directed By:
Written By:
Runtime:
Studio:
Lorimar Productions
Audience Reviews for Second Serve
[img]http://ecx.images-amazon.com/images/I/41IHLThb0IL._SL500_AA280_.jpg[/img] SECOND SERVE is a controversial 1986 film focusing on the personal and professional struggles of renowned doctor and former US OPEN tennis champion RENEE RICHARDS. RICHARDS was born a man RICHARD RADLEY who struggles with gender identity issues in the early, early pioneer days of transgender issues. The film is set in the 1950's and '60's outlining RICHARDS struggle to live a 'normal' life with a girlfriend, then marrying and fathering a son. The film could have easily turned into an EQUAL RIGHTS parade march down the middle of the tv screen but instead is rather stark and frank without the preachiness or psychoanalysis prevelant in this genre. VANESSA REDGRAVE is outstanding as RICHARD RADLEY for most of the film with intermitent scenes of RENEE. REDGRAVE did such a convincing job as RICHARD that it was difficult to see her as RENEE eventhough REDGRAVE is tall, slender, and extremely feminine in her features. She comes across the screen in an unapologetic deliverance with all the frustration that must be associated with gender identity issues. VANESSA REDGRAVE was nominated for an EMMY for her unwavering performance in a time when audiences had rarely if ever seen a movie with genuine transgender characters. Most of the '80's films featuring gay or transgender character were usually silly drag queen types with nothing meaningful to add about life or love, but REDGRAVE is heart felt and strong. The film is worth seeing not for its controversy but for its generosity towards the human spirit. BRAVA VANESSA [img]http://www.filmreference.com/images/sjff_03_img1299.jpg[/img]
kim whitman
Second Serve Quotes
There are no approved quotes yet for this movie.