Secret of the Incas
(1954)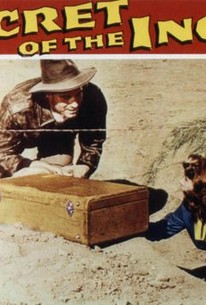 AUDIENCE SCORE
Critic Consensus: No consensus yet.
Secret of the Incas Videos
Secret of the Incas Photos
Movie Info
Before Indiana Jones there was Harry Steele (Charlton Heston), an idealistic archaeologist determined to return an ancient Incan mask to the society from which it came. A greedy con-artist (Robert Young) has other ideas, though, and the two men race to fund an expedition to find the treasure, which has reportedly been buried by Spanish conquistadores somewhere in Machu Picchu. The con-artist (Young) seduces a beautiful tourist in order to reach his goal, leaving Steele (Heston) to locate the site through more honorable means. Twenty-seven years before directors George Lucas and Steven Spielburg collaborated to create Indiana Jones: Raiders of the Lost Ark, Jerry Hopper directed Secret of the Incas.
Rating:
NR
Genre:
Directed By:
Written By:
In Theaters:
Runtime:
Studio:
Paramount Pictures
Critic Reviews for Secret of the Incas
There are no critic reviews yet for Secret of the Incas. Keep checking Rotten Tomatoes for updates!
Audience Reviews for Secret of the Incas
Yma Sumac was a Peruvian soprano singer with an extremely impressive vocal range from a manly low to a squeaking high. It is unclear whether or not she was born in 1922 or 1923, probably because of immigration issues, but she unfortunately died on November 1, 2008 from colon cancer. She was called the "Peruvian Songbird" as her voice ranged over three octaves and because she wore very flamboyant outfits to attract attention and represent her South American heritage. Eventually, she moved to America where she starred in several Broadway musicals and the Charlton Heston film Secret of the Incas, which was a great way to exhibit her impressive voice and unique outfits. (Haley 2012). Not only do I have a strong passion for films but I want to make them my future as I am a Video Production major with a minor in Film Studies. Relating all of my courses to film not only betters my knowledge of that class but coincides with my passion. In choosing Yma Sumac I decided to watch her film Secret of the Incas. The film is essentially a precursor to Indiana Jones as it is about a tough, handsome archaeologist searching for treasure and adventure. It takes place in South America, specifically in Machu Pichu. Sumac doesn't arrive until more than halfway through the film when Heston is exploring the jungle and finds a village of natives. Here he meets Sumac's character who is very minor but has her own entire scene representing the woman making an offering to the sun god. This brief scene shows her vocal range which may not even be recognizable, at first, as a human voice for it sounds beyond humanly high pitched. Not only is it impressive that she sings so high but after she vocalizes a ridiculously high note, she begins singing with a much lower timber, almost manlier at that. She comes back with an even better performance twenty minutes later. Here she is very quirky, dances, and is accompanied by many tribal-dressed dancers. She has a raspier voice, exhibiting a different style of her broad range, and she's silly and eccentric with her singing. As she keeps a lower octave she then continually changes from high to low in an astounding way. Her role in this movie was clearly to show off her singing talents and possibly her beauty too. Her acting is not bad at all; in fact, it is pretty good for her minor role. But prominently the director chose Sumac to give her a chance at showing her talents to the world. This quote is right as it states "A defining feature of American instrumental pop music of the 1950's and early 1960's is its reliance on exotic references" because very frequently features such as Latin rhythms, lyric-less vocalization, bird calls, and many other forms of foreign musicality (1999, p. 45). Finally, she returns in the end of the film to give a glorious performance as she bellows the theme of the movie to the sky during a ritual. Not only is this an iconic way to end a great film but it shows the absolute musical beauty of the Peruvian Yma Sumac. Works Cited: Haley, John H. "A Re-Evaluation of the Artistry of Yma Sumac Based on Live Recordings." ARSC Journal 43.2 (2012): 163. Web. Raiders of the Lost Ark. Dir. Steven Spielberg. Paramount Pictures, 1981. Film. Secret of the Incas. Dir. Ranald MacDougall. Perf. Yma Sumac. Paramount Pictures Corp., 1954. Film. Sullivan, William. "THE SECRET OF THE INCAS." notes 1 (1998): 2. Leydon, Rebecca. "UTOPIAS OF THE TROPICS." Widening the Horizon: Exoticism in Post -war Popular Music (1999): 45.
Kyle Licht
The template for Indiana Jones turns out to be cribbed from earlier adventure movie sources (like Tarzan, for instance), surprise. Charlton Heston is a Yankee adventurer overseas (down Peru way) strictly to make his fortune, looking for lost Inca gold, romancing lonely tourist wives and only a little above all around asshole until he meet Nicole Maurey (who's little better as it turns out). The character arc has both change their jaded ways by the time the credits roll with most of the action focused on the natives dutifully honoring their lost culture, Yma Sumac doing a Mariah Carey with her vocal talents. She gets 3, count 'em, 3 songs no less. Could use a bit more salt and pepper.
Kevin M. Williams
Super Reviewer
½
Ehh...there wasn't really too much of a story with this one. I noticed that Heston always uses his mouth muscles, especially his jaw to express his emotions.
Steven (Mogi) .
Secret of the Incas Quotes
There are no approved quotes yet for this movie.