Secret Ceremony
(1968)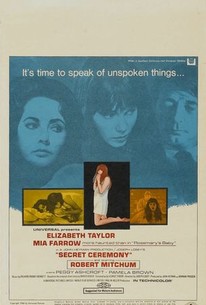 Movie Info
This film was based on a prize-winning short story by Argentine civil servant Marco Denevi. Leonora is an aging prostitute who becomes convinced that Cenci is her daughter -- who supposedly died in infancy. Cenci knows that she is in fact Leonora's niece, but Leonora will not be dissuaded.
Critic Reviews for Secret Ceremony
Audience Reviews for Secret Ceremony
A bizzare, ungodly film that has all sorts of nasty behaviours at work. Taylor and Farrow make a love lost pair with stepfather Robert Mitchum making things worse with his incestious prescence. Each Taylor and Farrow think they have been reborn meeting thier supposedly dead loved ones. Slow paced it made me want to leave several times until Mitchum arrives. [img]http://upload.wikimedia.org/wikipedia/en/thumb/e/ec/SecretCeremony%2768.jph.jpg/220px-SecretCeremony%2768.jph.jpg[/img] Secret Ceremony is a 1968 film, produced in Britain and released by Universal Pictures. Based on the book by Argentine writer Marco Denevi, it stars Elizabeth Taylor, Mia Farrow, Robert Mitchum, Pamela Brown, and Peggy Ashcroft. Joseph Losey directed, from a script by George Tabori. [img]http://t2.gstatic.com/images?q=tbn:ANd9GcTPMyugIKOtUutIWpAep3QZDMmeafONNcbgjpl25d-bXA-83Y1YlQ[/img] Not what it seems, Farrow is childlike here. If you are a fan of Mitchum, you'll have to see him half way through the film and then not too often after that. His role of an incest stepfather, if in fact he was that, is not becoming of the personna of a Robert Mitchum. But Taylor is convinced he is a rat so in the end she does something about it. [img]http://t0.gstatic.com/images?q=tbn:ANd9GcRMpUu0MmiqNEqKc_FQbzs0VwM9z5wbbS8GsTrIVtk4fQEsUKZq9A[/img] Robert Mitchum as the incestious stepfather SEE the trailer here: http://www.tcm.com/mediaroom/video/353288/Secret-Ceremony-Original-Trailer-.html Worth watching if you can tolerate the very slow pace of the film. A plus for the film is a very young 23 year old Mia Farrow who pretends sex with herself a few times and even having a child. Her stepfather, Mitchum, advises Taylor she is a nut case headed for suicide. SEE the entire film here: http://www.youtube.com/watch?v=CH3gvC1PXY4 [img]http://t3.gstatic.com/images?q=tbn:ANd9GcRqT3gDqN5QHMMRV-vW2h2UhL3u-iX5PHSoKHiETHY6V6VlDt-0[/img] Here the two are like mother and daughter in bath NOTES: 1 There are apparently varying versions of the film, the result of Universal Pictures' tampering with Losey's original cut, possibly to de-emphasize the lesbian aspects of the Taylor-Farrow relationship. 2 Critical reception of the film has tended to be mixed, with some critics essentially maintaining that it is a bad film but yet one that can be enjoyed due to a certain camp quality evident in Losey's mise-en-scène and the actors' performances. However, other film analysts regard the film as compelling because of its deep psychological portraits. REVIEWS: 80% Elizabeth Taylor is intriguing as a slightly overweight prostitute. Despite those flaws, her beauty is still beyond compare. I dare anyone to pull off... 50% Now this--THIS--is a weird movie. [img]http://t0.gstatic.com/images?q=tbn:ANd9GcR-4F0pp-eq7z_kwiu2z7H8d8aDzDon0NaSfhEIlnOx77iXXY3InQ[/img] Farrow is excellent as the rape victum of Mitchum, or so it seems Distributed by Universal Pictures Release date(s) 1968 Running time 105 min. Box office $3 million (US/ Canada rentals) [img]http://t2.gstatic.com/images?q=tbn:ANd9GcR5ZYW9eaFl8UBMJ6TZol6tV7Q7oK5pjRMWVhiEuq3HI64VFEpChg[/img] A powerhouse performance by Farrow and Taylor
monsieur rick
½
This movie feels like a waste of talent. A strange story that doesn't really require a whole lot of dialogue or acting.
White Rabbit
½
Elizabeth Taylor as a poor aging prostitute who "befriends" an emotionally fragile young hieress (Farrow) with some serious Mommy issues. Posh art-deco architecture and steamy sex scenes (possibly a lesbian scene, depending on your perspective), combined with intense dialogue and melodrama make this a fun, disturbing flick.
Fenris Ulf
Secret Ceremony Quotes
There are no approved quotes yet for this movie.
Discussion Forum
Discuss Secret Ceremony on our Movie forum!