The Secret of Nikola Tesla
(1979)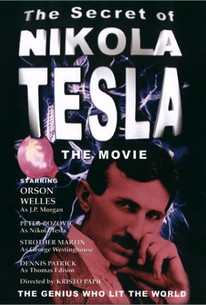 AUDIENCE SCORE
Critic Consensus: No consensus yet.
The Secret of Nikola Tesla Photos
Movie Info
Nikola Tesla (here played by Petar Bozovic) was a famous 19th century Yugoslavian inventor. The film recounts Tesla's development of the alternating electric current, first under the dictatorial thumb of Thomas Edison (Dennis Patrick), then on his own. Tesla develops a harmonious working relationship with George Westinghouse (Strother Martin), who indulges the inventor his eccentricities and gives him the credit he deserves, something the tyrannical Edison refused to do. Orson Welles appears briefly as J. P. Morgan in this Yugoslavian biopic, originally released as Tajna Nikole Tesle. ~ Hal Erickson, Rovi
Rating:
NR
Genre:
, ,
Directed By:
On DVD:
Runtime:
Audience Reviews for The Secret of Nikola Tesla
Never would I have guessed that a bio-pic about the man who gave us AC (Alternating currents) would be so interesting. Though the production values leave much to be desired the story of the man who feuded with Thomas Jefferson, entertained Mark Twain, and was in business with George Westinghouse and JP Morgan is one that every American should be aware of and The Secret of Nikola Tesla is an easy and enlightening way of learning about a man that history has forgotten (and in some cases ostracized).
Jonathan Porras
Captivating and engrossing, captures the life of famed electricity discoverer and genius Nikola Tesla. Great period costuming and sets, decent acting too. The soundtrack is the huge drawback when it appears, sounding like a bad horror flick. The movie depicts Tesla as a loner, one who spoke his mind when it was not always appropriate. Even when speaking before the society elite about his triumphs, he shocked them by deriding their timidness about the future. In the end, it was Tesla himself who spoke carelessly to J.P. Morgan, his megabillionaire backer. Tesla claimed his access to power was to everyone on the planet, something Morgan saw no value in backing as he wanted to be the sole provider of power. The Secret of Nikola Tesla (Serbo-Croatian: Tajna Nikole Tesle), is a 1980 Yugoslav biographical film which details events in the life of legendary inventor Nikola Tesla (portrayed by Serbian actor Petar Bozovic per the credits). [img]http://t0.gstatic.com/images?q=tbn:ANd9GcRrb4Sfxg5aaHKdxEnzYgZitkRY7nvXcnmD8cOOaLgZIDwsU1yK1g[/img] Stars Petar Bozovic, Orson Welles, Strother Martin. SEE the entire film here: http://www.youtube.com/watch?v=LnAqCNPiVeY REVIEWS: 80% I was interested in Tesla and that's what put this movie in my Netflix queue. Then I sat up when I noticed Strother Martin and Orson Welles in the op... [img]http://t0.gstatic.com/images?q=tbn:ANd9GcR1Xump7Aclfg3jMbikp3GE9dR3SaZi6f6aPPRwKgPtANA40HUF[/img] actor Petar Bozovic as Tesla [img]http://t3.gstatic.com/images?q=tbn:ANd9GcTk9KmDz83miuArzyY8l3lpuyC4vgTU-OGzVtaL9IOqZ2Ai2ynt[/img] The real Nikola Tesla NOTES: 1 Much of the focus is upon his battles with Thomas Edison involving the clear superiority of Alternating Current over Direct Current and his commercially unpopular dream of supplying consumers all around the globe with limitless free energy. 2 Not motivated by money, Tesla was more intent on serving mankind. He bristled at those who were driven by money and greed but he needed their money for his work. 3 Strother Martin (who died six weeks before the film's September 12, 1980 English-language premiere at the Toronto Film Festival) and Dennis Patrick as Westinghouse and Edison, respectively. [img]http://t2.gstatic.com/images?q=tbn:ANd9GcT6LeUQtRxCPoSwHaOTcOb3rc7BhLSMcjXrohT6rQd3Hnm0YZ9IzQ[/img] Petar Bozovic as Nikola Tesla Strother Martin as George Westinghouse Orson Welles as J. P. Morgan Dennis Patrick as Thomas Edison Oja Kodar as Katharine Johnson Boris Buzančić as Robert Underwood Johnson Demeter Bitenc Vanja Drach The Secret of Nikola Tesla Directed by Krsto Papi Written by Ivo Brean Ivan Kuan Krsto Papi Music by Anelko Klobuar Cinematography Ivica Rajkovi Editing by Boris Erdelji Release date(s) 1980 Running time 115 minutes Country Yugoslavia Language English Serbo-Croatian [img]http://t0.gstatic.com/images?q=tbn:ANd9GcQAfFzAVMJlvQ_DBAgBdGMvSRZq6yCHgiGhepXtNvXiuRVTpuyWAQ[/img]
monsieur rick
The Secret of Nikola Tesla Quotes
There are no approved quotes yet for this movie.