The Secret of NIMH 2: Timmy to the Rescue
(1998)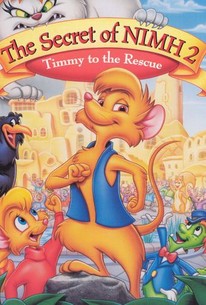 AUDIENCE SCORE
Critic Consensus: No consensus yet.
The Secret of NIMH 2: Timmy to the Rescue Photos
Movie Info
This direct-to-video sequel to Don Bluth's cult favorite The Secret of NIMH catches up with the gang of intelligent mice from a mental health lab; this time out they're a few years older and Timmy the Mouse has a girlfriend in tow.
Rating:
G
Genre:
,
Directed By:
Written By:
In Theaters:
On DVD:
Runtime:
Studio:
MGM
Critic Reviews for The Secret of NIMH 2: Timmy to the Rescue
There are no critic reviews yet for The Secret of NIMH 2: Timmy to the Rescue. Keep checking Rotten Tomatoes for updates!
Audience Reviews for The Secret of NIMH 2: Timmy to the Rescue
With mediocre animation, annoying characters and forgettable songs, NIMH 2 is one the most insulting sequels ever made. It's the Batman and Robin of animated movies, where it ignores the dark, complex themes of the original and replaces it with campy, childish schlock.
Gabriel Cambre
This is a movie where the sequel did not measure up to the original Secret of NIMH. The Original was dark, freaky, and the story quite compelling. This movie is what we get when we try to let film makers and parents guide our decisions into what movies we should see. This movie is about Timmy and how he moved away from his family and went to NIMH and Justin and Mr. Ages request to live off his father's destiny (That's literally what it looks like, no other explanation is given). But as Timmy grows he only wants to be a hero where Justin and Mr. Ages just wants him to learn and be cautious for his own good. One day another young girl mouse comes to NIMH and tells the rats of NIMH that their other families at NIMH survived and are being tortured there. The rats of NIMH think it is to dangerous to venture there only to get captured once again. So, what naturally happens is that Timmy and the young girl mouse venture to NIMH with a little help from old friend Jeremy(Where he and a catipillar are schemeing other forest creatures out of there food because they are pretending to be the great owl; who left the tree he was at years ago). One Timmy and the girl mouse get there they find out that NIMH plans to send in army to the rats of NIMH to destroy it. Can Timmy stop this henous plot? As you can see that is the overall plot to this film and yes, it is corny. There are things that our good about this movie like having Arthur Mallet, Dom DeLuise, William H. Macy, and Eric Idle involved. The story is pretty good too, until the corny ending and also it is hilarious to hear Ralph Macchio singing and acting as Timmy. Overall this film has it's moments but for true fans it leaves you wanting more. 5 out of 10 I give it.
Zachary Rivard
If you're a fan of the first movie, ignore this POS at all costs, and pretend it doesn't exist. The original was a masterpiece that appealed to both kids and a adults. THIS is aimed at kids through a sniper rifle scope, the songs are horrible, the plot is stupid, and has a lot of buildup, and no payoff, simply becoming an insult to ANYONE'S intelligence.
Matt Lorenz
The Secret of NIMH 2: Timmy to the Rescue Quotes
There are no approved quotes yet for this movie.
Discussion Forum
Discuss The Secret of NIMH 2: Timmy to the Rescue on our Movie forum!