The Secret Reunion (ui-hyeong-je)
(2010)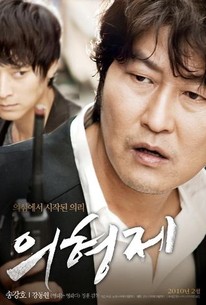 AUDIENCE SCORE
Critic Consensus: No consensus yet.
The Secret Reunion (ui-hyeong-je) Photos
Movie Info
When North Korean secret agent Ji-won crosses the 38th Parallel on a mission, the National Intelligence Service (NIS) led by Han-gyu intervenes, and a shooting rampage ensues in the heart of Seoul. For the incident, Han-gyu is fired and Ji-won is deserted by his agency. Six years later, the two meet by chance and start a business partnership, each with the intention of stealing information from the other.
Rating:
NR
Genre:
, , ,
Directed By:
Written By:
In Theaters:
Runtime:
Studio:
Independent Bollywood
Critic Reviews for The Secret Reunion (ui-hyeong-je)
There are no critic reviews yet for The Secret Reunion (ui-hyeong-je). Keep checking Rotten Tomatoes for updates!
Audience Reviews for The Secret Reunion (ui-hyeong-je)
I can already feel the blood bath. A North Korean agent/detective works in South Korea and convinces his boss that a North Korean assassin is about to make the news. He teams up with an ambitious assassin to help take down the assassin known as The Shadow. "Please stop. Do you see them only as money?" Hun Jang, director of Rough Cut and The Front Line, delivers Secret Reunion. The storyline for this picture is actually fairly intricate and well done. The action is also very dramatic and the cast delivers excellent performances. The cast includes Kang-ho Song, Dong-wong Kang, and Su-ho Ha. "You'll make me more money over time." I grabbed this off Netflix because I have historically thoroughly enjoyed Kang-ho Song's pictures (Thirst and The Host). This was another well done and well written picture. The film isn't perfectly paced, but I did enjoy the way the film is executed. I recommend giving this a viewing. "I want to live!" Grade: B
Kevin Robbins
It's a serviceable spy/buddy/comedy. Sang kang-ho even in a mediocre film is always watchable. It doesn't really have anything in the way if original ideas but what it does have are some good performances, some laugh at loud moments and some genuine fun.
Tracy Williams
There's only one reason I watched and that's because Song Kang Ho happens to be one of my favorite actors. This film, unfortunately though, is nothing more than a solid thriller with a small hint of comedic moments here and there. And that's the problem, it seems like the movie really wanted to be a comedy in some parts without really straying too far from what they're trying to do with Song's and Kang's characters individually and as a tandem. As a result the comedy isn't particularly funny, despite having a very talented comedic actor in Song Kang-ho. That said, the acting is more than solid and Song and Kang make a good pair. I thought the film got a little too bromance-y and sentimental at the end, but they're the reason the film is as good as it is, it's just that the script fails their talents. The story is fairly simple with Kang's character having to go into hiding for fear he'll be killed by the North Korean government for being considered a "traitor" and him working and living with the former NIS agent. Whose investigation led to Kang being considered a traitor. There's also a sub-plot with Kang and how he wants to get his family into South Korea before he surrenders and this is where the drama comes from. It isn't that melodramatic, all things considered. As mentioned the film, gets too sentimental on me and that's a flaw. But it is a solid film even if it isn't particularly memorable and even if it happens to be a combination of a bunch of different films all at once. I suggest you watch this on Netflix instant, I wouldn't really pay for this film unless I really had to so that makes netflix instant perfect for this kind of film.
Jesse Ortega
Super Reviewer
The Secret Reunion (ui-hyeong-je) Quotes
There are no approved quotes yet for this movie.