Sector 7
(2011)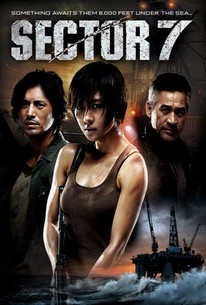 AUDIENCE SCORE
Critic Consensus: No consensus yet.
Movie Info
In "Sector 7", an underwater oil field located south of Jeju Island, Hae-jun is working as a marine equipment manager on an oil prospecting ship called Eclipse. Joining the crew later is Jeong-man, a former colleague of Hae-jun's father, assigned to Eclipse as captain. Though his job is to oversee the withdrawal of the ship, he suggests conducting some drilling one last time.
Critic Reviews for Sector 7
All Critics (3) | Fresh (0) | Rotten (3)
Sector 7 does nothing to further a genre with vast boundaries, focusing more on copying past films than producing B-Movie glory.

Unless you are a diehard, and preferably desperate, fan of Asian monster movies it's probably best you sidestep Sector 7.
Eventually the creature is vanquished by the last person standing. If this sounds like every monster movie cliche ever invented, "Sector 7" manages to drag in them all.

Audience Reviews for Sector 7
One line summary: The lure of a vastly improved fuel goes very, very wrong. ---------------------- The opening is set about twenty years in the past. Divers encounter life at an unexpected depth. Unfortunately, it was hostile, and it killed Cha Hae-joon's father. In 2011, we switch to an oil drilling platform. During one of the drills, odd fish (like opening sequence) come floating up. The genetic researchers Park Hyeon-jeong captures several of them and keeps them in a tank. One of the more ignorant of the crew (Chi Sun) takes out one; it bites him, infects him, and gives him a deformed face. The drillers encounter 100 dry holes, but they resolve to keep trying, and do strike oil. Three months later, they are on maintenance mode. While doing repairs, they lose one of the younger staff, Hyeon-wu. A short time later, Hyeon-jeong falls to her death. The crew blame Chi Sun. Shortly thereafter, the on site staff physician is killed. Of course, it's a dark and stormy sea. Chi Sun has gone insane from the things he's seen. Plus, there is a serious infestation in the rig, and some walking horrors that seem to be hungry. Chi Sun gets lost in the shuffle. The captain goes to investigate with his biggest gun. Hae-joon goes with, then the whole remaining crew. The captain guesses correctly that the monster has some sort of strong relationship to oil, and throws his ignited cigarette lighter in its mouth. That worked for a bit. The monster starts on fire, but the fire does not kill it. Will anyone get out alive? How did the captain know to throw the lighter? Why was there a geneticist on board to begin with? -------Scores------- Cinematography: 7/10 Well done, except the monster, which was one of the more important characters of the film. Sound: 10/10 No problems. Acting: 5/10 The lead actress is a little weak. The two comic relief characters were more of a detriment than anything else. The monster was pretty bad. Screenplay: 5/10 Some of the plot steps are hidden for a while, but it unfolds fairly well before the end. I thought the final conflict with the monster went on too long.
Ed Collins
½
This movie is pretty lame. If you're really wanting to watch a South Korean monster film, then I suggest going with The Host. This movie is mostly concerned with copying films you've seen before. The one it reminds me the most of is Alien. It follows that same format, of a monster killing off a crew that's stuck on an oil rig without anyone to help them, like the crew in Alien being stuck in a spaceship. The characters are all stereotypes, I'm not even going to go over them but you've seen them before and will again. You're not really given a reason to care for the characters, they are definitely poorly developed. There's a strand of a plot thread that carries throughout the film, and that is Hae-jun's reluctance to leave Sector 7 without finding her father's remains under the sea, who died in the same sector 20+ years before the events of the film. They never really go with this at all, they just mention it in passing, so it doesn't really have much emotional resonance when she finally does leave. The explanation for how the monster was created was also pretty lame, it was so uninspired that you really have to wonder the purpose of trying to explain how it was created if you're gonna do such a bad job at it. Some of the movie's effects are cool, but there are a couple of scenes, mostly with the bikes, that just look embarrassing. The monster I don't have a problem with, it doesn't look great but it doesn't look terrible either. And that's far more forgivable, since with less resources, the effects aren't going to look as good as they do in Transformers and it's unrealistic to expect them to be. I don't mean to dissuade anyone from watching this film if they really want to watch it. But for my money, it's not a particularly entertaining monster flick.
Jesse Ortega
Super Reviewer
Half a star out of **** I think I heard of "Sector 7" through Shout Factor earlier this year when they released it onto DVD and Blu-ray in the US. It's a Korean monster movie that I would have not seen let alone have taken notice of without the home video distributers attached; I assumed it must be worth something. So as I watched it, you can probably guess my intense disappointment when I began to realize, at a relatively fast rate, that it really wasn't worth much at all. By the end, it was all but worth nothing. The experience reduces itself to just that before the last act. It's such a painfully derivative and dull-minded film that I almost don't want to call it one. And it's a disgrace to its country of origin, which has put out some great films in the past, present, and future; namely, in this department of monster movies, the wonderful "The Host". So obviously, with that film existing, this is inexcusable. The story is set entirely on the oil rig that gives the film its title. The film opens with a worker submerged underwater in a suit, discovering a new aquatic life form when he accidentally breaks a part of the ocean floor with his foot. These life forms come in large groups, and one attacks him before the scene cuts to black. We're then introduced to a slew of characters - workers on the same rig - that are about as bland as the un-thrilling opener. The film attempts to develop them individually through romantic sub-plots and the like. For instance, there's a guy - with a fat lip given to him by one of the captured creatures, which spits this tentacle thing at his face - who wants to get with one of the female scientists on board, and she's uninterested. That's as far as that goes. The film drags on with this pointless characterization that doesn't even work for about forty minutes until something seems to be very wrong. The lady scientist is found dead, and many other bodies follow hers. Soon, it's revealed that there's a monster on the loose. Maybe one of those little beasties evolved rapidly and escaped its tank. There's certainly a resemblance. The monster is tall, icky, slimy, and a product of corny special effects. It's like a fish with tentacles and a mouth that resembles a worm-like plant species that we might have seen in some other movie before this. Then again, we've seen everything here in some other movie before it. A lot of it evokes Ridley Scott's "Alien". The merging of science fiction with horror, the isolated location, the stupid characters who get killed; the one thing that's truly different (aside from the fact that "Alien" is awesome and this is not) is the monster who will do the killing. It's certainly no xenomorph. It's over-designed and mostly uninteresting. It's also really hard to kill, but what isn't in horror movies these days? It poses the same kind of threat that any gross, tentacle-laden being would. That's as far as the filmmakers go into with the concept of the beast. It's one thing to make a film that is thematically weak and uninspired; it's another thing entirely, on the other hand, to make a movie that probably doesn't even get to the level of themes or inspiration. For one thing, it has absolutely no visual style. Aside from the awful visual effects, the director - Kim Ji Hun - apparently doesn't know anything about lighting or composition. He knows the basic tricks of the camera, but since when should that give him the right to make a piece of shit like this? The worst scenes are without a doubt the special effects dependent ones - such as a motorcycle race on the rig (safety first, kids) - the dialogue dependent ones (believe me, this is bad writing at its worst), and the action set-ups. Everything feels awkward and hilariously contrived; and I wished the film had been at least good for shits and giggles, but not even. It's simply not possible to enjoy a movie this bad that takes itself completely seriously no matter what angle you look at it from. There are no surprises, and the only laughs I got were derived from the bad effects and writing on display. Fuck this shit. If I were you, I'd move on to the next sector and just forget all about 7.
Ryan Marshall
Super Reviewer
Sector 7 Quotes
There are no approved quotes yet for this movie.
Discussion Forum
Discuss Sector 7 on our Movie forum!