Sedamdeset i dva dana (72 days)
(2010)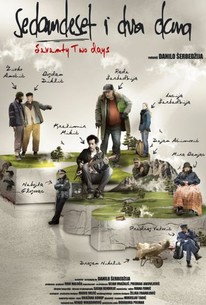 AUDIENCE SCORE
Critic Consensus: No consensus yet.
Critic Reviews for Sedamdeset i dva dana (72 days)
There are no critic reviews yet for Sedamdeset i dva dana (72 days). Keep checking Rotten Tomatoes for updates!
Audience Reviews for Sedamdeset i dva dana (72 days)
This Croatian/Serbian co-production shows how the things are when the Balkan states work together... amazing! This post-war comedy/drama written and directed by Danilo Serbedzija has some of the most impressive stars from this part of the world... Rade Serbedzija, Kresimir Mikic, Bogdan Diklic, Mira Banjac, Zivko Anocic, Dejan Acimovic, Nebojsa Glogovac and Lucija Serbedzija were a real pleasure to watch in the surroundings which they obviously enjoyed. [img]http://www.coverdude.com/covers/sedamdeset-i-dva-dana-72-days-2010-bosnian-front-cover-58220.jpg[/img] The story of a Serbian family in Lika, in today's Croatia, which suffered the most during the Yugoslav war, was funny, sad, even silly, but it is definitely something possible in this part of the world. An aunty, and grandma, a widow of an American war veteran, is receiving a pension, and all the family cares for her and , of course, share the money! But, the senile grandma suddenly dies, and the family decides to find a solution to keep receiving a pension! The biggest problem with the movies from the Balkan is usually the sound, but here, thanks to the amazing naturally crisp recording of Nenad Vukadinovic, it was pleasure to listen clearly to every word spoken in this special artistic treat. Inspirational traditional music, excellent acting, very inspiring directing on a solid screenplay... there was so much good stuff in this movie that 80% is maybe underrated! Check it out and let me know!
Sedamdeset i dva dana (72 days) Quotes
There are no approved quotes yet for this movie.