Seddok, l'Erede di Satana (Atom Age Vampire)
(1960)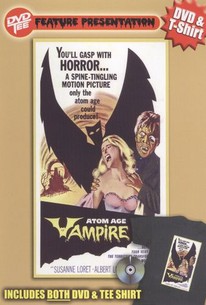 AUDIENCE SCORE
Critic Consensus: No consensus yet.
Movie Info
A scientist who is studying the effects of nuclear bomb explosions on victims falls for a woman whose face was destroyed in a car accident. He restores her face, then must keep killing young women to obtain the cells he needs to keep her face beautiful.
Critic Reviews for Seddok, l'Erede di Satana (Atom Age Vampire)
Audience Reviews for Seddok, l'Erede di Satana (Atom Age Vampire)
½
Really just a not very good B horror film, that has nothing to do with vampires at all. More of a mad scientist movie than anything else. It seems like the English title was just poorly translated anyways. The English version also comes off as extremely flawed. Not sure if this is more or less the same as the Italian version, or if drastic changes were made as far as dialogue and plot are concerned. The English version also has a different director so I wouldn't be at all surprised to find that out. At the same time the story was pretty good, the film was just poorly edited, the dubs are horrendous, rgw actings pretty bad and so on. At the same time this is a b movie through and through so that is to be expected. I don't rate these movies by the same criteria as newer and more professionally made movies either, so my rating just reflects my enjoyment of it. Honestly I was bored throughout. Can't really recommend this one, but might be worth a watch if you really like this sort of thing. Susanne Loret is pretty damn hot too, so this has that going for it.
Ed Fucking Harris
Super Reviewer
Not sure why iit has the word Vampire in the title, no blood sucking here only gland removal, A cute ole Drive in Movie, Pure swill, Black and White. Not a great one for halloween, Only 3 stars
Bruce Bruce
Super Reviewer
Bad acting, awkward staging, 99% BS, 1% science fiction. The title is translated badly too. I couldn't get a quick translation from my computer for Seddok, so it may be a name. Though in the English dubbed version there is no character with that name. The original title is something more like The Heir of Satan. This movie has nothing to do with the undead, or sucking blood, or bats. It has to do with a mad scientist who has created two formulas. The purpose of both is to try to regenerate cells particularly from radioactive scarring, which the doctor observed in Hiroshima. The first mixture had bad side effects, it turned the animal test subjects into monsters, though you don't see evidence of this on screen. The second concoction, which there is only one vile of, seems to heal scarring and it's only side effect is that is wears off. The mad scientist as expected has a mute servant and gardener. He has a female assistant who loves him. A showgirl who was somewhat of a celebrity is scarred in a car accident and reluctantly comes to the scientist to be healed. The second formula works and as soon as the buxom platinum-blond realizes the scars on her face are gone she shares a passionate embrace with the doctor. He becomes obsessed with her and this starts a love triangle between them and the doctor's assistant. Like I said the formula doesn't last and the scars come back, but they used up all the good formula in the initial treatments. How absent minded and impatient! The showgirl's on-again-off-again boyfriend has since returned and starts looking for her. The scientist will not admit failure in his treatments to keep the blond beautiful. So, he decides he must perform transplants from other young women to keep the scars away. What is his brilliant plan? He takes the first chemical potion to turn himself into a monster in order to have the courage to commit a few murders. What kind of monster? I don't know what he's supposed to be. He looks a little like the creature from the black lagoon but with wild hair. And get this, he can turn himself back into his human form whenever he wants by exposing himself to radiation. Well the showgirl becomes scared of his obsessiveness and escapes to find her old boyfriend. This starts another love triangle. The boyfriend enlists the police and eventually the doctor can't control his monstrous side. It's all very predictable and doesn't have any real frights.
Byron Brubaker
Super Reviewer
Seddok, l'Erede di Satana (Atom Age Vampire) Quotes
There are no approved quotes yet for this movie.