See No Evil: The Moors Murders
(2006)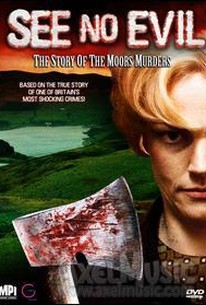 AUDIENCE SCORE
Critic Consensus: No consensus yet.
Movie Info
From 1963 to 1965, Ian Brady and Myra Hindley embarked on a vicious crime spree that would go haunt England for decades to come. Over the course of those two dark years, Brady and Hindley abducted two teenagers and three young children, sexually assaulting each before brutally ending their lives and disposing of the bodies in shallow graves across Manchester's dreary Saddleworth Moor. Forty years after the court case that brought Brady and Hindley to justice, director Christopher Menual marks the anniversary of the so-called "Trial of the Century" with this dramatization of the crimes starring Sean Harris and Maxine Peake. ~ Jason Buchanan, Rovi
Critic Reviews for See No Evil: The Moors Murders
There are no critic reviews yet for See No Evil: The Moors Murders. Keep checking Rotten Tomatoes for updates!
Audience Reviews for See No Evil: The Moors Murders
As a fan of The Smiths, I first heard about the "Moors Murders" via their song 'Suffer Little Children'. It is at once both beautiful and haunting and when you know a little of the story behind it, it is heartbreaking. Many years ago I had read a book about these horrible murders and the couple responsible for them, so when I heard that a film had been made I was eager to see it. The actors cast in the leads are (physically) eerily similar to the people they are portraying. And do an amazing job. And while a little slow at times (it was made for TV) the film gives you a really good feel for what was going on in their world at the time that they were commiting their atrocities. While I'm sure much was left out of the story out of respect for the victims and their families, I can not help but feel that more details being given as to what Myra & Ian did to these children would have made their cold and seemingly emotionless reaction to being caught, all the more horrific. The film is seen (mostly) from the view of the Hindley family and I appreciate that it showed the devestation that the crimes left on all of the families involved, not just the victim's.
½
Excellent movie about the true story of one of the most notorious serial murderers in British history, Ian Brady and Myra Hindley. Superb performances, outstanding script, and greatly directed. An emotional, tragic, and depressing film. Don't expect any gore, there is not a drop of blood here. This was a made for TV movie that is viewable for almost anyone(well not really for younger children though).
- Ian Brady and Myra Hindley The True Story: "Ian Brady & Myra Hindley met while working for a chemical company in Hyde, Greater Manchester, England. She thought he was quite an intellectual as he sat in the lunch room reading Mein Kampf in German. As their love blossomed they became more obsessed with Nazi paraphernalia, pornography and sadism. At first they enjoyed shooting pictures of themselves in the buff and in S & M drag. They thought they could crack the local porn market with their pictures but failed. Soon they proved to be more successful in child abduction and murder. Most of their victims were children whom they sexually molested before killing. These sadist lovebirds liked to document their murderous deeds. They kept an extensive collection of photographs of their victims as well as a recording of the screams of one girl's torturous end. In 1966 they were arrested after Ian bragged about his killings to Myra's brother-in-law. When the brother-in-law doubted his ability to kill, Ian smoked a young man right in front of him. The brother-in-law did not react appropriately. Instead of showing admiration, he went to the cops. Twenty years after their arrest, Ian confessed to four new murders the police had never linked to them. In December 1995, Hindley, who is in the same jail in northern England as fellow serial killer Rosemary West, gave her first public account of her crime spree, admitting she had been wicked and corrupt but claiming she was now a changed woman. Hindley described herself as a political prisoner who was being used as a scapegoat by politicians and the media. The formerly monstrous killer said: "The majority of people don't want to accept that people like myself can change, They prefer to keep me frozen in time together with that awful mugshot so that their attitudes, beliefs and perceptions can remain intact. On February, 1997, her lawyers made a plea to win her release. However, a London Superior Court decreed that Myra will spend the rest of her life behind bars with no possibility of parole." I highly recommend this movie!
jd cryptic
Super Reviewer
See No Evil: The Moors Murders Quotes
There are no approved quotes yet for this movie.