The Isle
(2000)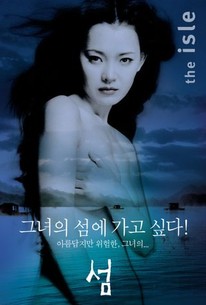 Movie Info
Recalling both the erotic tension and the surrealist imagery of Woman of the Dunes, Kim Ki-duk's film is set near a remote lake where men come far and wide to fish on anchored rafts. Running a little bait-and-tackle shop is the earthy -- almost feral -- young lass Hee-jin (Seoh Jung), who sometimes sells herself for a price to horny fishermen. On one raft is the morose youth Hyun-shik (Kim Yu-seok), who Hee-jin has quietly taken a shine to after saving him from a suicide attempt. His ham-fisted advances are rejected, but after a second try at suicide, in which he puts fishing hooks in his mouth, she nurses him back to health. Soon, a freakily-intense relationship builds between the two in which the jealous Hee-jin starts to brutally dispatch with any competition. This film was screened at the 2000 Cannes Film Festival.
Critic Reviews for The Isle
Audience Reviews for The Isle
A mute woman who runs a fishing resort becomes obsessed with a suicidal fugitive hiding out in one of the floating cabins. A bizarre, perverted sadomasochistic love story in a unique setting; animal lovers may feel like boycotting this one, though.
Kim Ki-duk serves up another dark and twisted love-story themed film set on a fishing lake where a mute woman and a man with a troubled past find attraction with eachother. The movie is very picturesque and beautiful to look at at times, then we have some rather unpleasant scenes that add the disturbing quality to it all. There's a couple of very nasty moments of self-harm involving fish hooks and moments of animal cruelty - fish mutilated, a drowning finch, a dog takes a beating and a frog gets ripped apart. I wouldn't really describe this as an erotic film at all, yes there are sex scenes but they are not romantic and the majority of them are done fully clothed without any titilation. The acting was very good all round, especially by the mute woman, a little bit more background on the male character would have been nice though. But I was really hooked from the start with this one despite the slowness of it all and the very little dialogue. I enjoyed it more than "Bad Guy".
Unforgettable quotes and dialogues... No, no, wait. The movie speaks volumes through its silence... Damn it. FML that I happen to stumble upon such films these days around.
familiar stranger
Super Reviewer
The Isle Quotes
There are no approved quotes yet for this movie.