Seoul Raiders
(2005)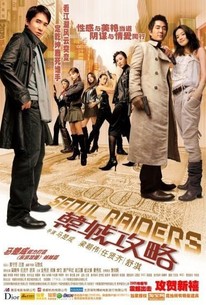 AUDIENCE SCORE
Critic Consensus: No consensus yet.
Movie Info
Hero and Infernal Affairs star Tony Leung takes the led in cinematographer-turned-director Jingle Ma's action thriller about a Japanese National Security agent and a thief who find their plans for splitting a lucrative reward complicated by the appearance of an unanticipated adversary. Japanese National Security agent Lam (Tony Leung) and skilled thief JJ (Qi Shu) may operate on opposing sides of the law, though their mutual love is all the excuse they need to enter into a tenuous, and dangerous, alliance. It seems that counterfeiters are making a mint by forging U.S. currency. The powers that be are not pleased, and now they're offering a $30,000,000 reward for anyone who turns in the plates used to produce the funny money. Lam and JJ are confident that they can recover the plates and retire on the reward money, though they didn't anticipate the appearance of scheming Embassy staffer Owen (Richie Jen). When Owen steals the plates and runs away to Korea, it's up to Lam and JJ to ensure that he doesn't profit from all of their hard work.
Critic Reviews for Seoul Raiders
All Critics (1) | Fresh (1) | Rotten (0)
Ma's screenplay is a muddle, but the attitude is fun, and watching Leung and Shu Qi try to out-charm each other is worth more than a convoluted plot any day.
Audience Reviews for Seoul Raiders
½
A rather bland but watchable Hong Kong action-comedy set mostly in Seoul, Korea. The fight scenes are ok and neatly choreographed but the story and humour just don't hit the mark. It's quite a forgettable film and won't rank highly among the casts best films which include Hong Kong legend Tony Leung and the irresistible Shu Qi.
½
Great sexy international spy thriller, but kind of funny made from Hong Kong. Amazingly, it is amusing, though in the slightest way possible. Seoul Raiders has a ridiculous concept that's thin even by Hong Kong's usual paper-thin standards. Jingle Ma has referred to his Raiders franchise as a Hong Kong James Bond, but Bond would never get worked up over cases this silly or bad guys this inept. Even though there are supposedly serious things at stake (lives, economies, possible terrorist interests), it's all put aside for the jokey, smarmy antics of Tony Leung Chiu-Wai, who's billed as the most super-cool Asian spy EVER.
Dean McKenna
Super Reviewer
½
Jingle Ma is able to come up with a comedic action adventure that turns out better than its predecessor, Tokyo Raiders.
Another name for this film is Tokyo Raiders 2, but this film can stand on its own. The only thing the two films have in common is the main character played by Tony Leung and also the concept for the story at a high level. In other words, you don't have to watch the first one before watching this one.
Jingle Ma creates a story that isn't all that dramatic or deep. This may not sound that good, but it works out quite well for the film. By making a less dramatic, less deep, and more energetic story, it fits with the upbeat style of the film.
The action is everything you expect from a movie like this. Actually it is pretty good, considering the cast. It comes in bunches and the choreography isn't too bad. This film also uses a nice combination of Korean and Chinese dialogue. This is Seoul Raiders after all. The music is entertaining, but it does sound like a rip-off of Kill Bill.
The acting is nothing special, but it works fine with this picture. Tony Leung provides some decent action, while Richie Ren portrays a dopey agent nicely. The rest of the supporting cast is great to watch and this is largely due to the fact that they are beautiful women. Tony Leung's 3 assistants, as well as Shu Qi, light up the screen, but they all lack character development and airtime. Just seeing them is enough though.
Fans of Tokyo Raiders may want to check this out as well as people who like comedic action adventures.
Seoul Raiders Quotes
There are no approved quotes yet for this movie.