September Tapes
(2004)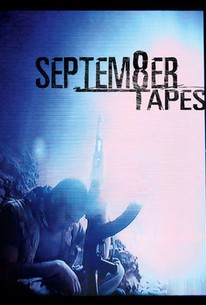 Movie Info
Commercial director Christian Johnston makes his feature film debut with the dramatic thriller September Tapes. The story takes place in Afghanistan, one year after the events of September 11. American journalist Don Larson (George Calil) and his two companions travel to Kabul in order to investigate the search for Osama bin Laden. After meeting with members of the Northern Alliance, he is arrested for taking photographs. While he's incarcerated, Don learns about a bounty hunter named Babak who may be able to help them. September Tapes premiered at the Sundance Film Festival in 2004 as part of the American Spectrum competition.
Rating:
R
Genre:
, , , ,
Directed By:
Written By:
In Theaters:
On DVD:
Runtime:
Studio:
Critic Reviews for September Tapes
Audience Reviews for September Tapes
½
An interesting idea, but it is delivered in that fake documentary, shakey, hand-held video camera style. Good footage of the Afghanistan/Pakistan countryside, and some pretty good combat scenes...but the entire reason that he was supposed to be there was lost to me. Had he lost his mind? All he really accomplished was to be the cause of more senseless killings. I have to say, though, that I was left with a sickened feeling after watching this..even knowing all along that it wasn't real.
Cynthia S.
Super Reviewer
½
One of my favorite movies of all time believe it or not. This movie draws you in from the beginning, and since it is films on location in the Middle East, you find yourself forgetting that it is a mockumentary and not a documentary. Mocku/Documentaries are my favorite genre, and this is one of the best.. When I go to rent a movie I intentionally skip past the major titles to the bottom shelf to find gems like this..
Ryan Schlotter
[img]http://us.movies1.yimg.com/movies.yahoo.com/images/hv/photo/movie_pix/first_look_pictures/september_tapes/september1.jpg[/img] September Tapes is a film that claims to be a documentary to sucker you in, but instead is a poorly acted, unrealistic movie that takes advantage of a very serious event. When September 11th happened, I know everyone who had a soul in The US was deeply saddened and wanted nothing more then to catch the horrible people who took 3,000 innocent lives. In this "documentary," filmmaker Don Larsen, who in real life is George Calil, is on a mission to hunt down Osama Bin Laden with a translator/guide, and a 16 year old cameraman. Only this "documentary" doesn't even border reality. Somehow, these three men are the only Westerners to make it as far as they have come, and throughout the film we see them act as soldiers themselves as they try and shoot down Afghani rebels to get to their ultimate goal of tracking down Osami Bin Laden. It gets to the point where Larsen actually has a camera in one hand, and is shooting with the other, making it look more like a first-person shooter video game, then an expedition to try and get some answers on the whereabouts of Bin Laden. 9/11 is a very drastic event that should be taken pretty seriously and the last thing I want are some C-rate actors making a mochary of it to make some money. I'm sure their intention wasn't to piss people off, but the fact that they claim for the film to be a documentary when it really isn't, makes September Tapes a shitty war version of [i]The Blair Witch Project, [/i]and frankly, I'm not impressed.
Matt B
September Tapes Quotes
There are no approved quotes yet for this movie.