Sequins
(2005)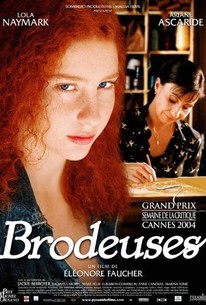 Movie Info
Claire (Lola Naymark of Monsieur Ibrahim) is a teenager who works as a supermarket cashier. She has moved out of her family's home and into a small apartment, partly because she doesn't get along with her parents, and partly because she doesn't want them to find out that she's pregnant. When co-workers begin to comment on her weight gain, Claire tells them she has cancer, and asks for medical leave. While staying with her girlfriend's family, Claire learns that her girlfriend's scarred brother, Guillaume (Thomas Laroppe), was in a motorbike accident, in which his best friend was killed. Guillaume is despondent and has decided to go abroad. Since Claire is looking for work, and has an interest in embroidery, she goes to visit the mother of Guillaume's dead friend. After some hesitation, Madame Mélikian (Ariane Ascaride of The Town Is Quiet) hires Claire to replace her late son as her assistant. Madame Mélikian has a successful business and a wealth of knowledge to pass on to the young woman, but she's nearly paralyzed by her grief. Still, the two eventually form a unique bond. Brodeuses, or Sequins, is the first feature film directed by Éléonore Faucher, who co-wrote the screenplay with Gaëlle Macé. It was shown at the 2004 Cannes Film Festival and was selected by the Film Society of Lincoln Center and the Museum of Modern Art for inclusion in the 2005 edition of New Directors/New Films.
Critic Reviews for Sequins
Audience Reviews for Sequins
A well done character study, this follows a young woman dealing with an unplanned pregnancy. Claire (Lola Naymark) hides her pregnancy from her friends and family as long as she can and even changes jobs to prevent discovery. The job change provides Claire with the sanctuary she needs to begin to come to grips with her situation and to sort out her options, even as she helps her new employer come to grips with her own tragedy. The young actress captivated this viewer. She is quite beautiful with the most luxurious head of red hair this viewer can remember seeing. But her ability to communicate her hidden emotions non-verbally was extraordinary. Ariane Ascaride played her employer, Madame Melikian, and brought a quiet dignity to the role of a mother dealing with the loss of a child. The supporting actors offered solid performances that fleshed out the story. Some lovely scenery and interesting camera work complete the package.
Mark Abell
Super Reviewer
½
Don't you know those ominous and ethereal moments before a thunderous storm is about to strike the earth? Well, this may sound a bit creepy, but that is my favorite type of weather. Usually this ephemeral condition only lasts (at most) 5 minutes. However, as I glared out the traincar window in gloomy fascination at the graying clouds, it seemed like it would maintain for eternity. Immediately after I thought it would last forever, I took another gander outside and saw the sky begin to weep. My window began to drip, obstructing my view. I guess even Mother Nature can only keep a stiff upper lip for so long. Then it began to violently pour, much to my dismay, since I was trying to write (and subsequently read) and the volume of the people in the train began to rise with the cacophonous of the downpour. I've freqeuntly observed that, when dealing with peoples emotions, rain is extremely divisive. It influences either somberness or boisterousness. Rain never cries, or emits noise, alone. This morning my father woke me up at 10:58. "Nick, wake up -- mass is at 11:30". I know...that is the reason why I am still in bed. I rolled over and fell back asleep. I was woken up again at 11:11 by my mother, and I was still relatively half-asleep. "Come on, we told you -- once you graduate form college, then you don't need to come to church with us". I said I would get up, and then I immediately feel back asleep. 11:18, dad again, this time with the most ridiculous statement I have heard all week. "Nick, if you eat food in this house, you go to church with us on Sunday". Even in my unconscious state, I had more logic than him and replied with an "Are you kidding me?". I fell back asleep, but right before I did so I mumbled, "I'm taking my own car, so leave without me". I finally got out of bed at 11:31 and stumbled towards the shower with the intention of conforming to my father's ludicrous demands. I arrived at church at 12:10, just in time to give "peace". I shook a few hands, flashed the two-fingered peace sign to a handful of people, spaced out, received communion and then stood in the back awaiting the end. Going to mass is really pointless, and I am not exactly sure why my parents insist that I go when I don't share the same beliefs as they do. Really, I wish that parents didn't impose any of their views (policial, religious, social, etc.) on their children. It just seems like the worst (and most discreet) type of manipulation. [b]-+-+-[/b][i]Film comments[/i][b]-+-+-[/b] [b][i]Kings and Queen[/i][/b], bookended by an instrumental version of Henry Mancini's deservedly loved "Moon River", is every bit as romantic as that song, but not nearly as optimistic. It is an unorthodox familial tale which hints that "family" might just be a veneer. Near the beginning of this lengthy, but never plodding, soap-opera, a character questions what constitutes love; but she should really be asking, "What is family?" This film addresses that question head-on (and when I say "head-on", I of course mean in an indirect and evasive way). The whole cast is so convincing that they make the occasional absurdity and coincidence plausible. The numerous obscure mythological allusions are a bit baffling and what was once significant soon seems to resort to name (or picture)-dropping. Sprawling, and a bit scattershot, the film spouts off its thoughts on family, disguises and the value of memories. Listen up, this royal flush has a lot to say and it is unyielding. [b]B+[/b] Similar to a sequin, which is a "small shiny ornamental disk, often sewn on cloth" according to the dictionary, [b][i]Sequins [/i][/b]is a luminous production but it is as thin as a disk. Sincere performances can't completely save this visually overwrought and shockingly unsurprsing film from becoming another entry into the quiet-expressive-and-impoverished-pregnant-teenager tale. The film would rather linger on the vague facial expressions of the adequate Lola Naymark than develop the characters to make this a truly original and involving tale. While occasionally meaningful and insightful, this film is mostly meandering lyrical nonsense. Although this understated film is erratically enthralling, there are some aspects to admire in the film. Superlative cinematography captures the provincial landscapes, excessive symbolic imagery and Naymark's vibrant red hair and pouty face (well, except when her hormes kick in; then it captures a horny smile). And at that point the film succeeds in becoming the most sensuous film about a pregnant 17 year old (and we don't even witness the conception!). It contains one of the most abrupt endings in recent memory, yet it doesn't earn it like the myterious coming-of-age tale [i]The Holy Girl[/i] or the thought-provoking [i]Before Sunset[/i] did. Even though many problems are left unsolved, there is not much to think, or care, about. [b]C+[/b] [i][b]Team America: World Police[/b][/i] was quite vulgar...and quite hilarious. Not always consistent in it's laugh-meter, though funny as hell, Team America mixes many genres and bashes them all. It is a complete mess, and deliberately so. It also includes an inspiring metaphorical monologue about "dicks", "asses" and "pussies". Personally, I think it worked better as a mockery of action films than it did as a political satire. [b]B [/b] But really, I shouldn't even be taking Team America very seriously. A.O. Scott summed it up perfectly: "Clever comedians that they are, they have also rigged Team America with an ingenious anti-critic device, which I find myself unable to defuse. Much as it may pretend otherwise, the movie has an argument, but if you try to argue back, the joke's on you."
Nick M.
Sequins Quotes
There are no approved quotes yet for this movie.
Discussion Forum
Discuss Sequins on our Movie forum!