Serbis (Service)
(2008)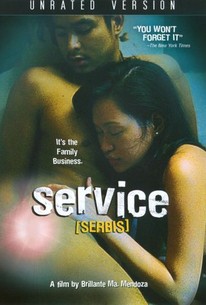 TOMATOMETER
AUDIENCE SCORE
Critic Consensus: This darkly comic family drama finds ways of being viscerally graphic and intellectually stimulating at the same time.
Movie Info
Crisscrossing stories chronicle the tangled lives of an extended family running a seedy porno theater in the Philippines in this vivid and sexually explicit drama starring Gina Pareño.
News & Interviews for Serbis (Service)
Critic Reviews for Serbis (Service)
Audience Reviews for Serbis (Service)
the movie paints a good enough picture of the character and the desperate situations they are in, but then what? the plot (or lack thereof) doesnt move any of these characters forward. someone please give the director a crash course on what a story arc is.
Marc Anthony Salcedo
½
I have to say that Brillante Mendoza's "Serbis" is slightly better than his more renowned(and at the same time, denounced) "Kinatay". In some ways, "Serbis'" cinematography, acting, and subplots were the collective product of what could be Brillante's personal vision of Philippine society and familial relations that has been distributed rationally to his other earlier films: "Tirador's" biting humor, "Kaleldo's" character interactions and mild sepia cinematography, the escalating darkness that his later film "Kinatay" has embarked on, and even "Masahista's" literal sexuality. The ensemble cast was also very impressive in their uncanny degree of suppressing any screen inhibitions, be it about showing their skin, or acting as a credible, functioning family while immersing themselves into the decaying backdrop of a filthy 'bold' theater. It was almost unbelievable for the whole cast to pull off such a film without going as far as the extremities Nagisa Oshima has reached and the cost of what cinematic taboo he had broken to show a sociopolitical allegory. Brillante Mendoza has also able to incorporate his usual fascination of religious traditions; imageries that might have been inserted just for the sake of it, or can also be visual antidotes to the sinful displays on his films. Notable performances were by Gina Pareno as the theater-inhabiting family's matriarch, and Julio Diaz as the awkwardly unknowing husband of Layda(played by Jaclyn Jose). It's just refreshing to see a film that has brought a pitiful place such as a decaying 'bomba' moviehouse into cinematic life(a place whose only common attribution is to "Imbestigador"), put it in the center of a neorealist drama, and let it's pathetic and dissident inhabitants dwell on the establishment's sleazy imperfections; an uncanny likeness to their own lives indeed.
Ivan Descartin
Super Reviewer
½
I'm not sure what director Brillante Mendoza was thinking. Maybe the intentions were honorable, focusing on graphic realism with an unflinching eye for detail, but the auteuristic style is small compensation for the utter lack of substance and motivation. The setting is a run-down porn theater in the slums of Angeles (Philippines). Serbis takes us behind the scenes, from one amoral act to the next, exposing the poverty and hopelessness of those involved. Okay, I get it. If you go through the countryside turning over rocks you're bound to see a few creepy-crawly things. What else would one expect? The shortcomings of the characters seem to be the apex of the story. There's little else to latch on to. I found myself wanting the plot to go somewhere but it just doesn't. The technique is sound but, on the whole, the film is little more than tabloid cinema. Given Mendoza's reputation, I was completely disappointed.
Randy Tippy
Super Reviewer
Serbis (Service) Quotes
There are no approved quotes yet for this movie.
Discussion Forum
Discuss Serbis (Service) on our Movie forum!