Serena
(2015)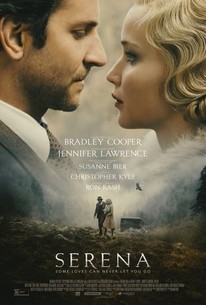 TOMATOMETER
AUDIENCE SCORE
Critic Consensus: Serena unites an impressive array of talent on either side of the cameras -- then leaves viewers to wonder how it all went so wrong.
Movie Info
The North Carolina mountains at the end of the 1920s - George and Serena Pemberton, love-struck newly-weds, begin to build a timber empire. Serena soon proves herself to be equal to any man: overseeing loggers, hunting rattle-snakes, even saving a man's life in the wilderness. With power and influence now in their hands, the Pembertons refuse to let anyone stand in the way of their inflated love and ambitions. However, once Serena discovers George's hidden past and faces an unchangeable fate of her own, the Pemberton's passionate marriage begins to unravel leading toward a dramatic reckoning. (C) Magnolia
Rating:
R (for some violence and sexuality)
Genre:
Directed By:
Written By:
In Theaters:
On DVD:
Runtime:
Studio:
News & Interviews for Serena
Critic Reviews for Serena
Audience Reviews for Serena
Bradley Cooper and Jennifer Lawrence star in the dramatic period film Serena. Set in the 1930s, a businessman and his young bride work together to run a struggling North Carolina logging company. Cooper and Lawrence both give strong performances and have good chemistry together. And the production values are especially good; particularly the score, which does a great job at setting mood and atmosphere. But the plot is pretty thin, and takes a rather dark turn at the end. Yet despite a few weaknesses, Serena is an intriguing character drama.
Dann Michalski
Super Reviewer
When thinking about what to write about a film I typically latch onto a main idea that comes to mind as I watch the movie. With something like Serena though it is hard to pin down because there isn't really anything there for one to think about and so the main idea, by default, becomes the lack of investment in what is going on. Despite the countless attempts by the story to keep throwing curve balls in an exhaustive manner intended to make me care there was simply nothing to dig into here. In many ways, I'm still sitting here wondering what exactly I watched as I type this and try to formulate a response to a film I'm not quite sure I understood the purpose of. What was it trying to say? Was there something I missed or were its intentions to purely demonstrate melodrama for the sake of entertainment? I may never key into what exactly director Susanne Bier's long delayed project wanted to be because I likely won't ever sit down to take it in again, but if there is anything to be said for the effort it is that I can see how this felt like a good idea. A winning formula, if you will. Grab two of the biggest movie stars on the planet right now (though at the time this was made they could easily be labeled up and comers), stick them in a period piece where they can flaunt their dramatic acting chops and lift the story from a well-received 2008 novel by Ron Rash in hopes that something of an Awards contender emerges. Unfortunately, that is not what we have on our hands here, but instead Serena is simply a middle of the road movie that features solid performances from its two leads and an eclectic host of supporting players with some lush photography and naturally gorgeous locations, but never matches its aesthetic in theme or story as it devolves into one trite situation after the next. These situations are intended to up the shock factor and the audiences emotional response and investment, but rather feel forced into a film that was never really all that interesting in the first place. read the whole review at www.reviewsfromabed.net
Philip Price
Super Reviewer
½
"Serena" is a capsule to expose these actors even more than they should be, as both of them do not belong together in this film. After "Silver Linings Playbook," Bradley Cooper and Jennifer Lawrence have been getting typecast, and that is the worst thing to happen to an actor in my opinion. The best way to describe this film is a remake of "Romeo and Juliet" in all of the worst ways possible. Every bit of romantic dialogue shared between them felt forced, as every shocked moment made me roll my eyes rather than be surprised. I felt like someone has taken the script of "Romeo and Juliet" and altered aspects to fit this time period, because many beats are duplicated here. "Serena" is finely shot, but aside from that, every other aspect, from storytelling to to filmmaking, was extremely formulaic. Now that is not always a bad thing, because with formulaic filmmaking, a great film can be made out of a well-written script. That is not the case here, so in the end, "Serena" falls flat in almost every regard. Even though I enjoyed viewing this cast, the film around them just continued to fall apart. Recommendable? Not in the least.
Serena Quotes
There are no approved quotes yet for this movie.