Sergeants 3
(1962)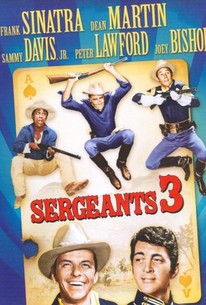 AUDIENCE SCORE
Critic Consensus: No consensus yet.
Movie Info
The 1939 adventure classic Gunga Din is transferred from British India to the American West, courtesy of Frank Sinatra's "Clan." Sinatra, Dean Martin and Peter Lawford play three cavalry officers, always ready for a brawl but willing to die for each other if need be. Sammy Davis Jr. a cavalry bugler who has aspirations of being a combat soldier. The three officers and the bugler take on a Napoleonic Native American chief, who plans to unify all the tribes and kill every white man in sight. Davis does his "Gunga" bit by blowing his bugle and warning the approaching cavalry that they're riding into a trap. About all that isn't pilfered from Gunga Din is the death of the noble bugler; Davis survives being shot up by the Indians with little more than a flesh wound! Sergeants Three also stars another Sinatra crony, Joey Bishop, playing the role originally essayed in Gunga Din by Robert Coote.
Rating:
NR
Genre:
, ,
Directed By:
Written By:
In Theaters:
On DVD:
Runtime:
Studio:
United Artists
Critic Reviews for Sergeants 3
All Critics (1) | Fresh (0) | Rotten (1)
It's one of those questionable camaraderie pics where the actors seem to be having a better time than the viewers.

Ozus' World Movie Reviews
Audience Reviews for Sergeants 3
½
Nicely filmmed and some suprisingly decent action sequences. Nevertheless, the Rat Packers seem abit bored by the beautiful scenery. The plot fails to capitalize on the nice production.
Steve Smith
½
They're ALL here, the original RAT PACK with Frank Sinatra, Dean Martin, Sammy Davis Jr, Peter Lawford and Joey Bishop. [see NOTE #1] The three Bing Crosby sons are in the film as well. People rule out Westerns today, they miss so much. [img]https://encrypted-tbn3.gstatic.com/images?q=tbn:ANd9GcRK0SUA6XHGKNWpO3Ais89NOVV2w9GEiycdR1dye2A6bClTTWRt[/img] Dean Martin escapes another arrow Few today know that the RAT PACK was these five guys. This movie is where the PACK can do NO wrong. They exceed in everything they do together. Overwhelming odds? Doesn't matter. Of course, its just a fantasy Western. Sergeants 3 was met with middling reviews on release. Variety labeled it as "warmed-over Gunga Din in a westernized version of that epic, with American-style Indians and Vegas-style soldiers of fortune. [img]http://i1.ytimg.com/vi/RU1AhwmEsJI/hqdefault.jpg[/img] From left to right: Frank Sinatra, Dean Martin, Peter Lawford Despite this awkward setting for the Pack, the cinematogrophy is outstanding. The West here and the entire film is shot so period, so well. The rest? Pretty awful for students of cinema but would have been a crowd pleaser in the day. It is painful to watch for realists. Directed by legend John Sturgis and produced by legend Frank Sinatra himself. While this movie does them a terrible injustice, at the time of release Westerns were in vogue, even comedy ones like this. If you can get past the nonsense at the beginning, the film might get some traction for you. The Indians are so terribly well clothed. The problem with costuming is it is SO santitized and terribly unrelistic. But look at this film not criticly, look at it as a museum piece, a time long gone by. All of these actors are now dead. SEE the entire comedy western here if you dare: https://www.youtube.com/watch?v=f_P_cZnOSPc [img]http://upload.wikimedia.org/wikipedia/en/thumb/6/62/Poster_of_the_movie_Sergeants_3.jpg/220px-Poster_of_the_movie_Sergeants_3.jpg[/img] REVIEWS: 30% Not into westerns and this was my first Rat Pack movie I've ever watched. Maybe I'm not the best person to judge this movie, but I didn't find it that... 60% I really wanted to like this because I'm a big Rat Pack fan, but I just couldn't get into this. The story is boring, the action feels too heavy .... [img]http://www.movieactors.com/photos-stars/sammy-davis-jr-sergeants3-5.jpg[/img] Sammy Davis Jr. nearly begs to join NOTES: 1 It was the last film to feature all five members of the Rat Pack due to Sinatra's falling out with Lawford and later Bishop. 2 Sinatra said of these Rat Pack films: "Of course they're not great movies, no-one could claim that... but every movie I've made through my own company has made money." 3 Seldom seen after its initial run in cinemas, never granted a release on home video, it seemed as though only a major event could bring Sergeants 3 to DVD. A DVD was finally released on May 13, 2008, both as a single disc and as part of a new Rat Pack box set, to commemorate the 10th anniversary of Frank Sinatra's death. [img]http://farm4.static.flickr.com/3245/2598861483_4ac2048ea4.jpg[/img] 4 of the 5 original RAT PACK together off screen Frank Sinatra as First Sergeant Mike Merry Dean Martin as Sergeant Chip Deal Sammy Davis, Jr. as Jonah Williams Peter Lawford as Sergeant Larry Barrett Joey Bishop as Sergeant-Major Roger Boswell Henry Silva as Mountain Hawk Ruta Lee as Amelia Parent Buddy Lester as Willie Sharpknife Phillip Crosby as Cpl. Ellis Dennis Crosby as Pvt. Page Lindsay Crosby as Pvt. Wills Hank Henry as Blacksmith Dick Simmons as Col. William Collingwood (billed as Richard Simmons) Michael Pate as Watanka Armand Alzamora as Caleb Rodd Redwingas Irregular Directed by John Sturges Produced by Frank Sinatra Howard W. Koch Written by W.R. Burnett Music by Billy May Cinematography Winton C. Hoch Editing by Ferris Webster Distributed by United Artists Release date(s) February 10, 1962 (United States) Running time 112 min. Country United States Language English Box office $4.3 million [img]https://encrypted-tbn2.gstatic.com/images?q=tbn:ANd9GcQsH-yvbIkXffH3HdBEuIRZ7ubGXzy1llLaTM416w_O4aISJDT1-g[/img]
monsieur rick
½
A remake of Gunga Din that lacks the imagination to be a good remake. The story is re-set in the West rather than India, however, many of the gags and even the lines are the same as the original. None of the Rat Pack can hold a candle to the comic genius of Cary Grant, so this story lacks the comic relief from that. Overall, a second rate movie that is made even worse if you have seen Gunga Din. My advice, avoid this movie and watch Cary Grant and company in the original.
David Poe
Sergeants 3 Quotes
There are no approved quotes yet for this movie.
Discussion Forum
Discuss Sergeants 3 on our Movie forum!