Sero hiki no Gôshu (Goshu the Cellist)
(1982)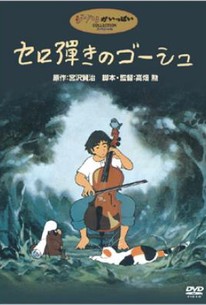 AUDIENCE SCORE
Critic Consensus: No consensus yet.
Movie Info
A cellist in a small orchestra receives help from animals to help him practice his music.
Rating:
NR
Genre:
, , ,
Directed By:
In Theaters:
Critic Reviews for Sero hiki no Gôshu (Goshu the Cellist)
There are no critic reviews yet for Sero hiki no Gôshu (Goshu the Cellist). Keep checking Rotten Tomatoes for updates!
Audience Reviews for Sero hiki no Gôshu (Goshu the Cellist)
As much as I love Hayao Miyazaki, most of my favorite Studio Ghibli movies actually come from Isao Takahata, whose done only 4 of Ghibli's 18 movie releases. Each of these is very different from the others, and all of them are very different from the rest of Ghibli's catalog. And at least 3 are masterpieces in their own right (I haven't seen My Neighbours The Yamadas). So I got excited when I read that Takahata had done a pre-Ghibli film about an orchestra cellist who receives music lessons from talking animals, adapted (for the third time) from a story by one of Japan's most revered children's authors, Kenji Miyazawa. Sero hiki no Goshu is a rather simply but incredibly charmingly told story of a young cellist in a local orchestra who's falling behind the rest of the group in his playing of Beethoven's 6th. For several nights running up to the performance, he's inexplicably visited by almost-desperate animals for various reasons; a bird who wants Goshu to teach him scales, a mouse whose son's illness can only be cured by hearing Goshu's cello playing, etc. Each visit is a sort of fanciful mini-fable, and each tacitly contributes in its own way to Goshu's musical development. They're all more interesting and subtle than I'd've expected going in, and often capture a magical quality that even most high-profile Ghibli movies can't match. Goshu the Cellist has little conflict, a simple development arc, few surprises, and no great dramatic payoff, so it won't satisfy everyone. However, anyone who digs Ghibli's laid-back pacing will feel right at home. Goshu the Cellist is endearing to the point of absurdity and is well worth the time for any Studio Ghibli fan who wants to explore the pre-Ghibli works of Ghibli's present-day heavy hitters.
Alex Hiatt
Before this film, I ears have never "heard" or sense classical music due to poverty. My teacher paid to show me this film when I was in 6th grade back in Taipei. This movie saved my music soul.
Sero hiki no Gôshu (Goshu the Cellist) Quotes
There are no approved quotes yet for this movie.