Sesame Street: 40 Years of Sunny Days
(2010)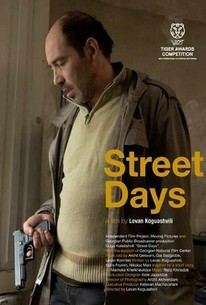 AUDIENCE SCORE
Critic Consensus: No consensus yet.
Movie Info
Generations have enjoyed SESAME STREET and its innovative approach to children's educational programming, and this collection celebrates the series' many memorable moments. Celebrities from Smokey Robinson to Alicia Keys make appearances, and furry friends including Telly Monster, Elmo, and Zoe teach kids letters, numbers, and basic life lessons. 40 YEARS OF SUNNY DAYS features more than five hours of beloved scenes from the show, and all kids' favorites--including Big Bird, Bert and Ernie, Oscar the Grouch, and Kermit--are here to join in the fun.
Rating:
NR
Genre:
, , ,
Directed By:
Written By:
In Theaters:
On DVD:
Runtime:
Critic Reviews for Sesame Street: 40 Years of Sunny Days
All Critics (1) | Fresh (1) | Rotten (0)
The nostalgia factor is pretty irresistible for adults and playful approach of education and gentle tenor of its skits makes it perfect of children of any generation...

Audience Reviews for Sesame Street: 40 Years of Sunny Days
½
Pretty good compilation of the series, though I couldn't help but long for more of the older, weirder stuff that I recall seeing as a young laddie. Fortunately the aliens that float down to earth were included; they used to scare me a bit. Funny that we bought this when our son was going on two and enjoys much of it as well: Elmo, Cookie Monster, etc. No question the series has gotten increasingly more commercialized in recent years; I think one reason for it is the increased reliance on private funds for their programming due to budget cuts.
John Foster
½
Not Just About the Nostalgia Factor It saddens me that the drive for ratings seems to be shaping things over at PBS these days. It finally seems to have occurred to the people there that there aren't very many girl monsters on [i]Sesame Street[/i], so they do things like create a pink fairy princess Muppet. This is not because some puppeteer or another came up with the character and thought she was interesting, the way a lot of the other Muppets were created. Or, as with Big Bird, they weren't created because another person thought there was an interesting idea and went looking for someone who'd do a good job at it. Or even, as with Elmo, someone went looking for a personality to fit an existing puppet. Alas no. "Abby Cadabby" was created because the executives thought a pink fairy princess Muppet could do quite a lot with the marketing. [i]Sesame Street[/i] is self-supporting because of that marketing, but I think they have to make some unpleasant compromises because of it, too. This two-disc set includes at least one and as many as three clips from the first forty years of the existence of [i]Sesame Street[/i]. Some of them are just the standard clips shown in one variation or another since their first appearance. There's the pinball machine, of course, and that poor man who keeps getting Grover as his waiter. (Grover explains that corn is just like a poached egg, because chickens eat corn and lay eggs, and it's all the same eventually.) There are several clips showing the range of celebrity guests featured on the series over the decades. Just generic bits featuring our favourite characters. Some of the more notable pop culture parodies and some of the more popular songs. Though of course all of those overlap quite a bit. There are also segments which involve the ongoing storylines from the Street itself. Two of them center around Maria and Luis, and three of them center around Big Bird. And two of the ones involving Big Bird are two of the most heartbreaking moments in the show's history. I am old enough so that I saw the first one in its initial airing. (The second one, too, but I was in college.) I remember seeing Mr. Hooper as a character, although only vaguely. It's more that I remember that I did, not that I remember doing so. In fact, Mr. Hooper died two months and a day before my father did. For all that, though, despite that it's been nearly thirty years, I still tear up just reading the Wikipedia article. (Checking exact dates.) And, yes, Mr. Hooper has his own Wikipedia page, albeit a short one. But what's notable is that the segment in question covers that Mr. Hooper [i]died[/i]. No euphemisms were used throughout the episode, and the segment they include is the one where the grown-ups explain to Big Bird exactly what "dead" means. It's probably one of the most moving moments in television history. The idea that Big Bird's nest was destroyed in a hurricane is only a mild downer by comparison. At the time it premiered, [i]Sesame Street[/i] was about the most revolutionary thing on television. Educational television existed, but of course PBS was in its infancy. Educational television was still pretty much exclusively commercial television, with all the failings that come with it. [i]Sesame Street[/i] was intended not only to avoid those pitfalls but to teach the way kids really learn. It has also always been the home of black people, white people, red monsters, blue monsters, Grouches, and big yellow birds. It's set in the inner city, too, though a particularly clean, crime-free inner city. You do kind of have to step into Muppetland in order to take some of it seriously; remember, for example, that Big Bird is supposed to be about six, and he lives alone. But Big Bird, and four-year-old Elmo, are point-of-view characters for the planned audience. When Big Bird or Elmo are confused, sad, or scared, it's because it's reasonable to assume that the audience will be as well. When Elmo freaks out about the prospect of dropping the ring at Maria and Luis's wedding, it's because that would be a kid's concern. Are the segments they show necessarily the ones I would choose? Not always, no. In fact, I skip a couple of them when I watch the DVDs. However, at least one of them is an example I give of how [i]Sesame Street[/i] was always intended to be viewing for whole families. It's funny when Smokey Robinson is being molested by the letter "U," but adults--or at least adults at the time the clip was filmed--already know the song "You've Really Got a Hold on Me." Given that the show appears on PBS, there's at least some expectation that parents might know what [i]I, Claudius[/i] is, which of course is always the point of [i]Monsterpiece Theatre[/i]. "Me, Claudius" is funny either way, but funnier if you know what it's referencing. What's more, some of the segments had to be included. They had to show the first time the adults saw Snuffy. The birth of Gabriella is pretty important. And so forth. But amidst all of that, there's still time to snicker when Ernie strips Bert so the snowman won't be cold.
Edith Nelson
Sesame Street: 40 Years of Sunny Days Quotes
There are no approved quotes yet for this movie.